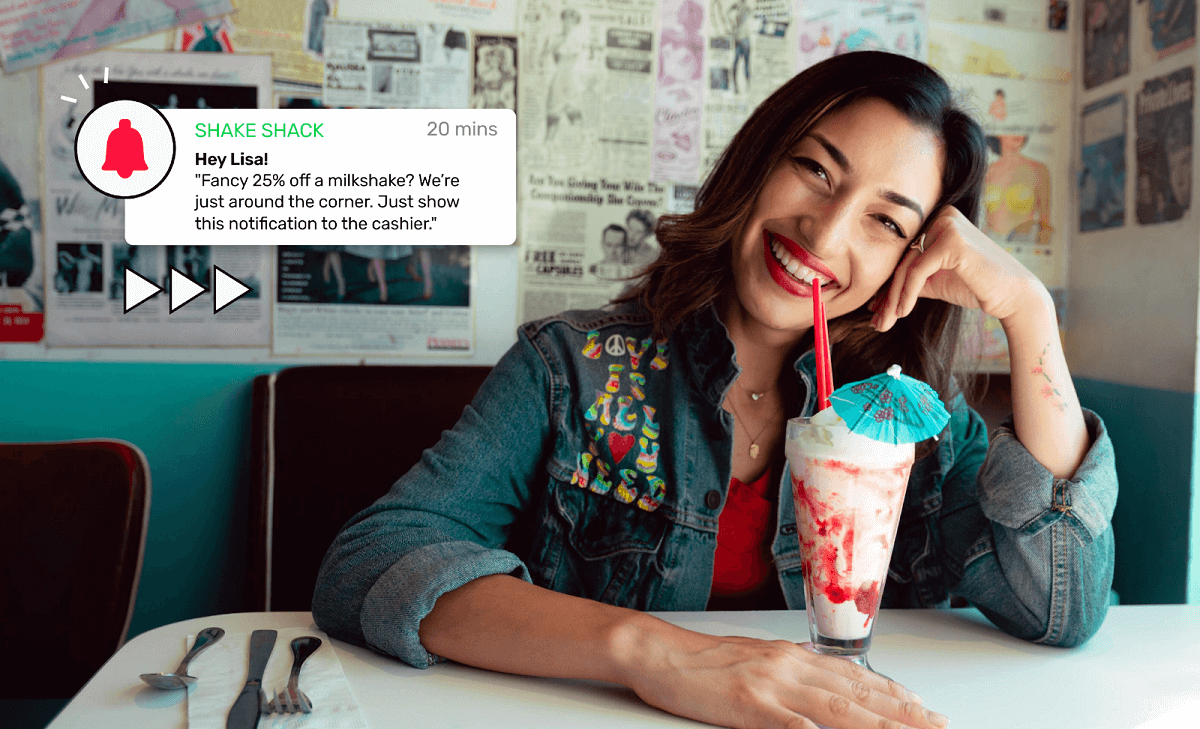 If you're trying to grow your business then you need to understand push notifications. In this guide, we'll explain everything you need to know: what they are, how they help your business and best practices so you don't annoy customers. By the end of this article, you'll be ready to add push notifications to your marketing toolbox.
In this article
What is a push notification?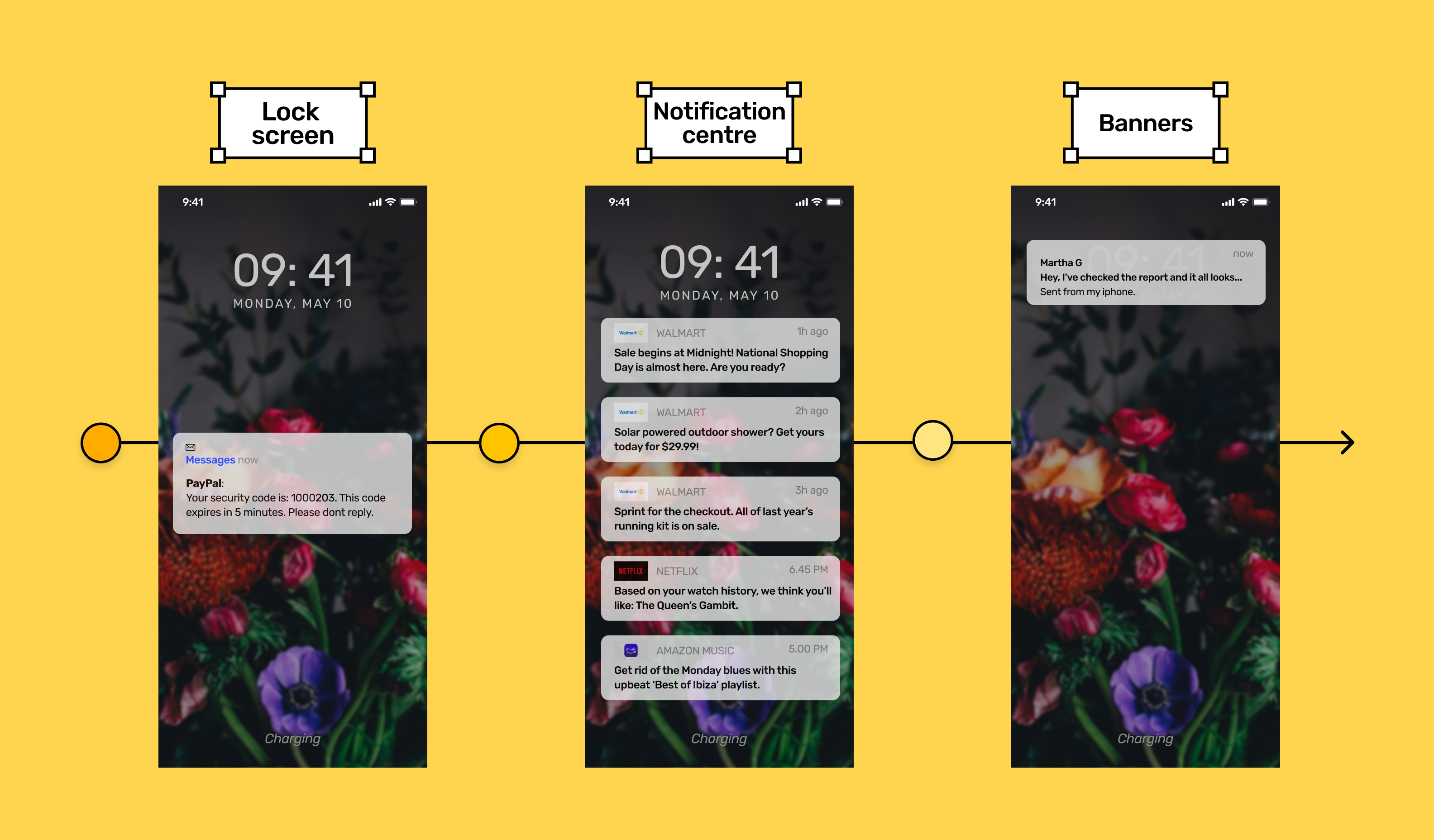 If you use a mobile device then you've seen a push notification before. They enable businesses to send messages to their customers. These messages will appear in the device notifications. They're available for most devices: computers, mobile devices and wearables.

The exact information displayed will vary depending on the platform. In general, there will be a title, an icon, a message and possibly smart response buttons. These are all customisable by the business sending the notification. The message isn't restricted to just text. It's possible to send images as well!

On mobile devices, these notifications can be displayed in 3 areas: the lock screen, the banner and the notification centre.

How do push notifications work?
The device that the notification is going to be displayed on will change the process slightly. Overall, the basic process is the same:

User opts-in: the OSPNS (Operating System Push Notification Service) then assigns them a unique ID.
A push notification is composed: this can be done via dedicated websites – such as the Firebase console – or make use of API services to automate it. The recipient group is also chosen at this point.
It's sent to the cloud: such as Firebase Cloud Messaging (FCM).
Additional information is added: this is used for tracking metrics such as deliverability and clickthroughs.
Push notification is sent: selected users will receive the notification on their device.
Information is sent back to the cloud: this is used for metrics such as deliverability and clickthroughs.
Web push notifications
The easiest type of push notifications to enable are Web notifications. These are supported by the most popular browsers: Chrome, Safari, Firefox and Edge. If your customers use a lesser-known browser it's very likely push notifications will be supported as they are becoming an expected feature.

One thing you should be aware of is that push notifications don't work when customers are using an in-app browser (such as in Facebook or their email app). Also, as they involve a unique identifier they don't work when your customers are using incognito mode.

The biggest advantage of these is that customers don't need your app to receive them. As long as you have a website you're good to go. The only difficulty with Web push notifications is that customers have to opt-in.

They'll see a popup that asks if they want to allow push notifications. If they click no, they won't see that message again and have to go into their settings to change their preference. This behaviour is different on mobile.

Android push notifications
If someone downloads and installs your Android app, you can send them push notifications straight away. Android apps opt-in users to push notifications by default. If the user wants them to stop they have to manually opt-out.

This makes it easier to connect with your customers but also means they're more likely to view your push notifications as spam. We'll cover some best practices later in the guide so you can keep your customers happy!

iOS push notifications
Apple created the original push notification service in 2009. It was imaginatively named the 'Apple Push Notification Service'.

One big difference between iOS devices and Android devices is that users need to opt-in to receive push notifications. If a customer downloads your app you can't send push notifications until they agree. Unlike with Web apps, you can create a user journey that increases the likelihood you'll gain user consent.

Don't bombard your user with permission requests when they first open your app. Unless your brand is highly respected users are likely to say no and you'll be associated with spam. This is a great way to tank your opt-in rate. Instead, wait until a relevant moment to request permission. When they place an order for example.

Rather than immediately displaying the system permission box, we recommend creating your own in-app version. You can explain why you want the permission before displaying the opt-in. "We'd like to send you updates about your order. Is that ok?"

Creating your own opt-in means that if a customer says no, you don't need to show them the system opt-in. Why is this good? It takes several steps to enable permissions that have been previously denied – only the most determined users will go through those steps to receive your notifications. You can periodically test them with your own opt-in and only when they're ready, show them the system opt-in.

Types of push notifications and when to use them
Now that you understand the general idea it's time to get a bit more specific. We'll discuss some of the different types of push notifications.
Rich vs standard push notifications
A standard notification only uses text. It's the most basic version available. Rich push notifications allow you to customise things. They add support for media such as photo and video. The ability to add personalised response buttons to the notification is also added. These can be used to link to subsections of your app or give users access to quick controls.
Order updates
As the creators of a free ecommerce app, this is possibly our most common use case. If you're interested, our app comes with everything you need to start selling online and grow your business. The free version allows you to process 50 orders for free each month.

We recommend using push notifications throughout the customer journey. If they've abandoned their cart send them a friendly reminder. Add their name as a personal touch to increase the likelihood they'll complete their order.

Once an order has been placed you can notify them at every step of the way: order placed, order shipped and order out for delivery. This is information customers want to know. By showing it to them via push notifications you're making their lives easier.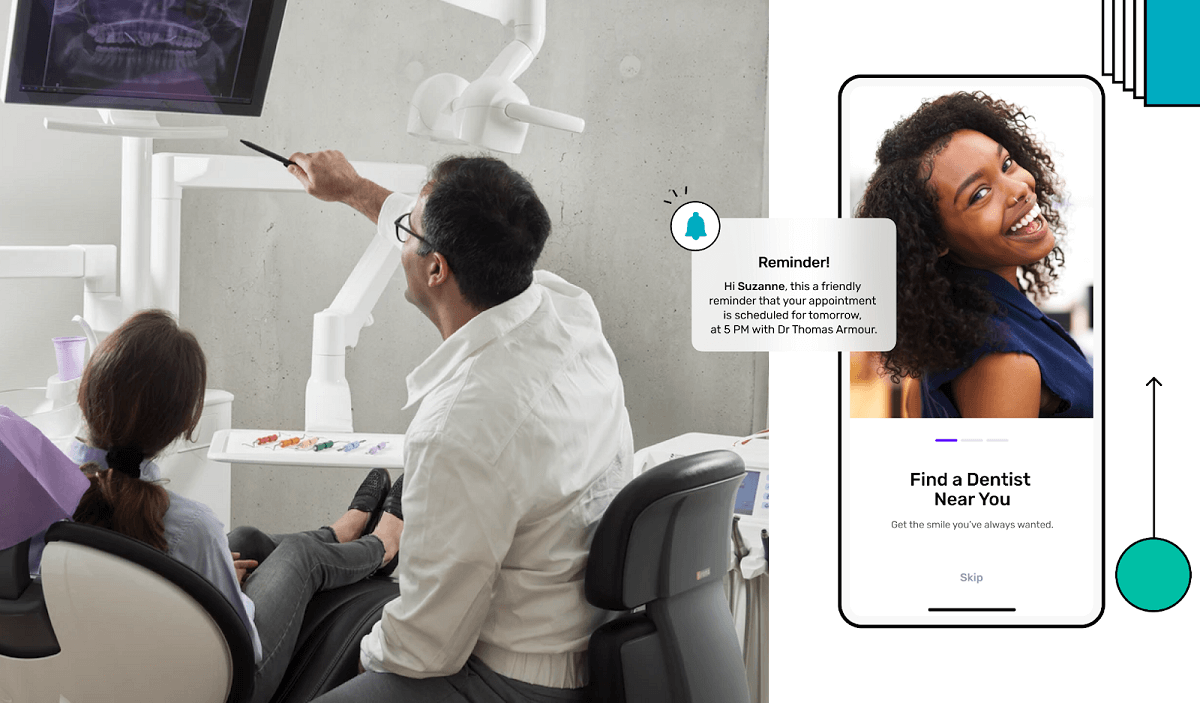 Reminders
Language learning app Duolingo uses push notifications to remind learners they haven't completed a lesson yet. Our doctor and dentist apps use them to remind patients of appointments. Would your customers appreciate a friendly reminder?
Triggered
There are a variety of triggers that can toggle a push notification. There's a bit of crossover between the categories. You can have time-based triggers (reminders) and action-based triggers (order is shipped).

We want to make you aware of geofenced triggers. This is a push notification that will only be sent when users are within a predefined area. Imagine you run a cafe. How about sending a push notification with an offer for discounted coffee when your customers are in the nearby area?

We make use of geofencing in our Gym, Retail and Spa apps. We wanted to make social distancing as easy as possible. If users get within 2m of each other they will receive a push notification warning them.

When it comes to push notifications, the only limit is your imagination. To get ideas for your business niche we recommend looking at the ways your competitors are using them.

Differences between push notifications, SMS and emails?
At first glance, there are a lot of similarities between the three. However, there are some differences that position push notifications as a superior choice.
Push notifications vs SMS
They both appear on your phone and have a notification so why is one better? Push notifications are something a customer expects to get. In some sense they've opted-in. Whether that's downloading your app or directly agreeing to receive them.

There are lots of unscrupulous marketers who send unsolicited text messages. You don't want your company to be associated with these efforts. It only takes a few complaints of spam to negatively affect your brand.

One of the biggest advantages is that you can make use of rich push notifications. Adding some colour to your message with photos and your brand logo makes you stand out.
Push notifications vs emails
One big advantage of push notifications for small businesses and entrepreneurs is that the message is short. Writing good emails is a skill. Most people find it much easier to come up with one intriguing sentence rather than an entire email.

The next advantage is that push notifications show up directly on the users' screen. Emails can, but will often end up in inboxes that don't have notifications enabled. You've more chance of your message being read when using push notifications.

Lastly, there are fewer legal compliance rules with push notifications. This applies to SMS as well. Emails require you to comply with GDPR or CAN-SPAM regulations. Some countries have limits on how many promotional SMS messages a company can send per day. Once a user has opted-in, you can send them as many notifications as you want. Please don't abuse this privilege.

How can push notifications help your business?
Now that you know how they work, let's talk about how you can improve customer engagement by sending push notifications.

What if I told you over 40% of the world's internet users will never see your ads? That's happening right now! According to Hootsuite, 42.7% of internet users use an adblocker. A business that sends push notifications can avoid this and deliver 'ads' directly to the customer.

Now obviously people need to agree to your notifications in the first place. Consent is granted more often than you might expect. Good To Seo says that 33% of 18–34 year olds will always agree to push notifications. 63% will often agree. If your notification payloads contain useful information you're likely to have a high opt-in rate.

The data supports the effectiveness of push notifications. E-goi found push notifications to have a 7x higher click-through rate than email. This means greater engagement and ultimately more sales. According to Notify Visitors, using push notifications could get you, "an ROI of up to 2200% and increase your daily traffic by up to 25%". This isn't a crazy outlier. Invesp found that 48% of mobile users made a purchase after receiving a targeted push notification.

Push notifications are a vitally important tool for all businesses looking to grow.

Push notification setup ( Android + iOS + WEB)
You're sold on the value of push notifications and are ready to start using them. The setup process is quite technical and can be a bit daunting if you're not familiar with coding. Don't worry, we have a solution.

Web notifications are probably the easiest option to set up by yourself. Depending on how much control you want, you have two main options. If you want maximum control then we recommend exploring the W3C Push API. If you want a slightly easier setup then we recommend using Google's push notification tutorial – this still requires some comfort with coding.

A motivated individual who's comfortable with technology can tinker their way through setting up Web push notifications. However, the go-to solution for Android and iOS requires much more technical knowledge. Firebase Cloud Messaging is the easiest way to add multi-platform push notification support to your app.
Want to use push notifications, but don't have the technical skills to get setup? Let us help. We think push notifications are so great which is why we built them into all of our Studio Store apps. These are prepackaged apps that come with all the features you need to grow your business: a simple payment solution, social features and a smart business dashboard to name a few.
Push notifications best practices
Onboarding
When a customer signs up for push notifications, what is the first thing you send them? If you're a new marketer you probably want to share a promotion. We'd advise against this. You want to become a trusted source of information.

Create an onboarding journey that will introduce customers to your brand and share some of your most useful content. This increases the chances a customer will become a loyal user. In fact, Invesp found that sending just one onboarding-related push notification to new users during their first week increased retention by 71% over two months.
Segmentation
Use push notifications the same way you use other tools. Segmenting allows you to give your customers the right content at the right time. Most push notification platforms make this easy to implement.

An ecommerce store that caters to men and women shouldn't send out a push notification to everyone about their new line of summer dresses. It's not providing any value to the men. At best it's mildly annoying and at worst they'll opt out of future notifications.

It's also worth thinking about the best time to send notifications. Scheduling allows you to create your push notification in advance and send them at a predefined time. If you've collected lots of customer data then you can optimise this for a huge boost in click-through rates. As a simple tweak, ensure you're not scheduling notifications during the night – you want to increase the chances your customer will read it.
Don't spam
When you first start using push notifications it can be tempting to bombard your customers with them. This is a bad idea. E-goi found that 70% of people consider push notifications useful. If you deliver an experience your customers don't find useful you're going to be considered spam. This can lead to them opting out or even swearing off your brand.

We need to draw attention to the differences between platforms. Remember that Web and iOS require a user to opt-in. This results in higher quality leads. These are people who want you to contact them. As long as you don't do anything ridiculous, you should have a very receptive audience.

Android users have a different experience. It still offers huge benefits to you, but due to the automatic opt-in, you'll have to be more cautious about your messages. These users didn't explicitly choose to receive your notifications. Which means they'll be less tolerant of messaging that doesn't bring them value.

Final thoughts
Push notifications are the next big thing in online marketing. You now understand what they are, how they can improve your business and best practices for keeping your customers happy. If you don't already have an app that supports push notifications we recommend trying one from Studio Store.
Give your customers a friendly nudge. Use push notifications.

Frequently asked questions
1. Why use mobile push notifications?
Push notifications are an excellent way of increasing engagement with your customers. Segmentation and scheduling ensure you deliver relevant content at the right time.
2. How do I create an app with push notifications?
Our Studio Store apps are prepackaged and need no technical skills to set up. Every app comes with support for push notifications. They have all the features you need to grow your business. We even include hosting and aftercare. Oh, and we pride ourselves on accurate pricing and quick turnaround times!
3. Why don't push notifications always get delivered?
Battery saving mode is on – this stops almost all app publishers from sending notifications.
User has disabled them at OS level – this can be a permanent block or 'do not disturb' is turned on.
No internet connection
Device issues – certain devices have a bug where they only display notifications if an app is opened.

4. How to boost push notifications delivery on Android?
Ask your customers to add you to the approved list. Once you're on it then your app is on the exempt list and you'll be able to send notifications even if battery saving mode is on!

5. What are device tokens?
This is a unique identifier that the OSPNS (Operating System Push Notification Service) assigns to each device. User data is associated stored alongside the device token to support segmentation. Businesses select the groups they want to target and the OSPNS sends a push notification.