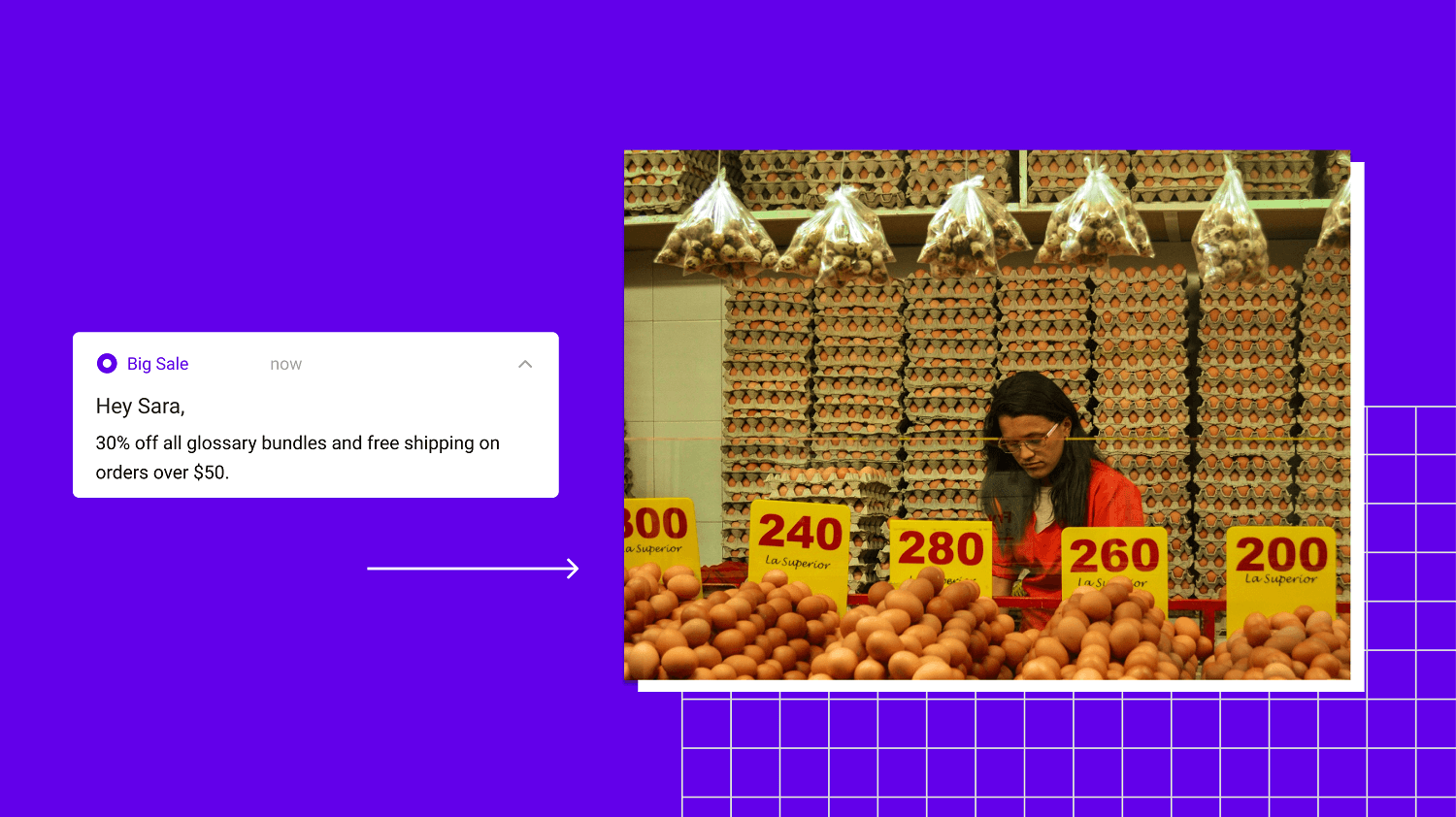 So you've created an app to grow your business. Now it's time to master the art of push notifications to keep your target users updated and engaged.
In this guide, we'll explain everything you need to know about them, including what they are, their key benefits and how you can leverage them to generate more revenue.
Use the contents to flick through or get scrolling 👇
In this article
What is a push notification?
Push notifications are messages delivered to a device's home screen and can be leveraged on computers, mobile devices and wearables. Essentially, they enable app owners to send messages to their users, enticing them to return to the app with discounts, promotions or product updates.
The exact information displayed varies depending on the platform. In general, there will be a title, an icon, a message and possibly smart response buttons which are all customisable by the people sending the notification. You can also include text and images to achieve your goals.
On mobile devices, these notifications can be displayed in three areas: the lock screen, the banner and the notification centre. On pressing them, they bring the user straight to the app.
How do push notifications work?
Once your app gets installed on your customer's device, it's just a matter of drafting and sending the notification message. Although the working of push notifications depends on the device they are going to be displayed on, overall, the basic process is the same:
User opts-in: the OSPNS (Operating System Push Notification Service) then assigns them a unique ID.
A mobile push notification is composed: this can be done via dedicated websites – such as the Firebase console – or make use of API services to automate it. The recipient group is also chosen at this point.
It's sent to the cloud: such as Firebase Cloud Messaging (FCM).
Additional information is added: this is used for tracking metrics such as deliverability and clickthroughs.
Push notification is sent: selected users will receive the notification on their devices.
Information is sent back to the cloud: this is used for metrics such as deliverability and click throughs.
Now that you know how to send push notifications, you also need people to agree to your notifications in the first place. According to Statista 33% of 18 to 34 year olds will always agree to push notifications, while 63% often agree. That means if your notifications contain useful information, you'll likely have a high opt-in rate. Regardless, let's see how different platforms handle consent…
Web push notifications
The easiest type of push notifications to enable are web notifications. These are supported by the most popular browsers, including Chrome, Safari, Firefox and Edge. Even if your customers use a lesser-known browser, it's very likely push notifications will be supported.
One thing you should be aware of is that push notifications don't work when customers are using an in-app browser (such as on Facebook or their email app). Also, as they have a unique identifier, they don't work when your customers are using incognito mode.
The biggest advantage of these is that customers don't need your app to receive them. As long as you have a website, you're good to go. The only difficulty with web push notifications is that customers have to opt in.
They'll see a popup that asks if they want to allow push notifications. If they click no, they won't see that message again and have to go into their settings to change their preference. This behaviour is different on mobile.
Android push notifications
If someone downloads and instals your Android app, you can send them push notifications straight away. Android apps opt-in users to push notifications by default. If the user wants them to stop, they have to opt-out manually.
This makes it easier to connect with your customers but also means they're more likely to view your push notifications as spam. We'll cover some best practices later in the guide so you can keep your customers happy!
iOS push notifications
Push notifications on iOS apps work differently by comparison to Android. For example, they're not 'ON' by default and you can't deliver notifications to your users straightaway. Instead, they have to opt in to your notifications.
Because of this, you need to work on a strategy that increases your likelihood to gain user consent. Check out the best practices section for more.
Types of push notifications and when to use them
Now that you understand the general idea, it's time to get a bit more specific. Here are the different types of push notifications you need to know about...
Rich vs standard push notifications
A standard notification only uses text. It's the most basic version available. On the contrary, rich push notifications allow you to customise things. They add support for media such as photos and videos. The ability to add personalised response buttons to the notification is also added. These can be used to link to subsections of your app or give users access to quick controls.
Order updates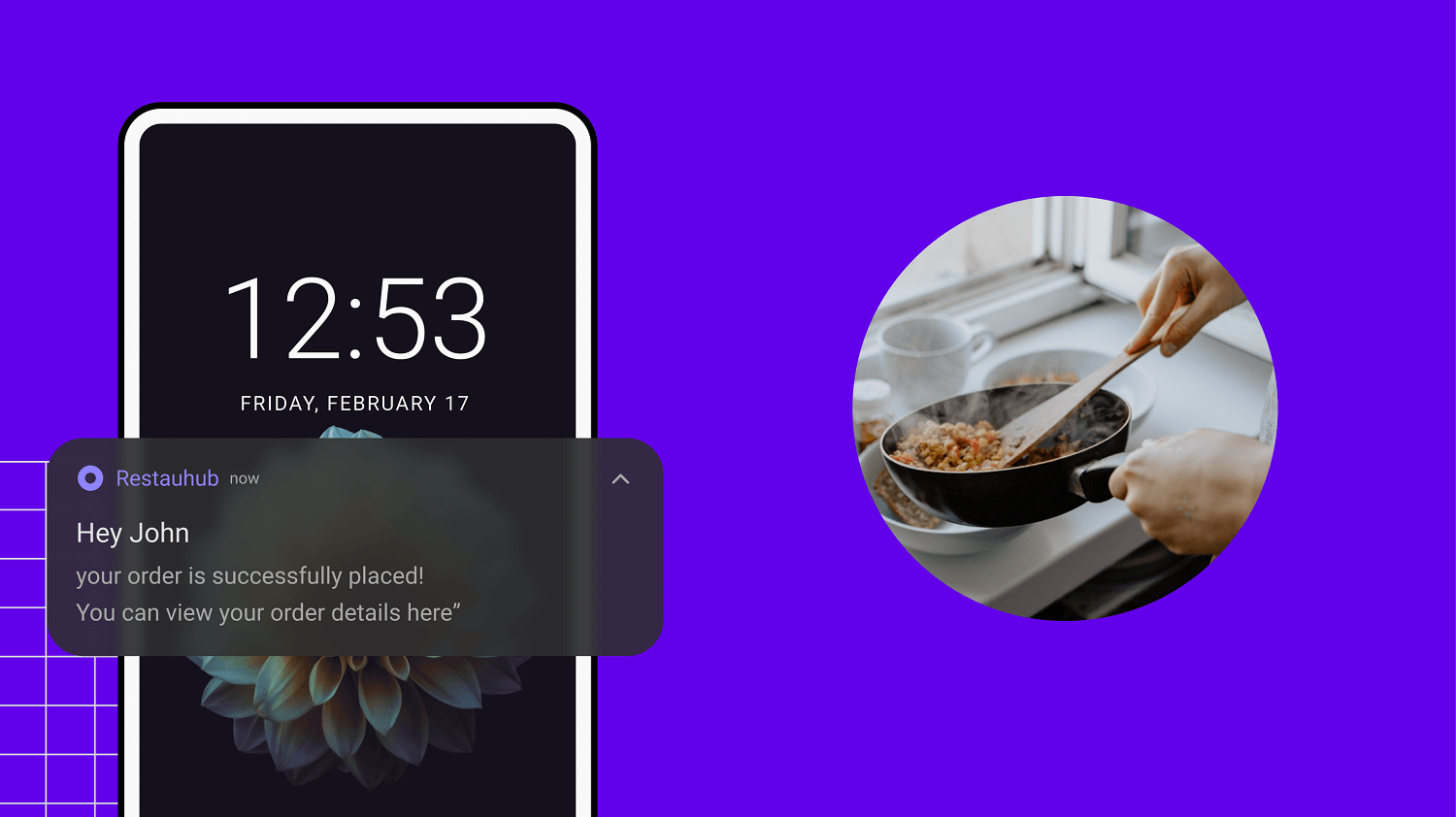 One of the best things about push notifications is that you can leverage them throughout the customer journey.

For example, if users have abandoned their cart, you can send them a friendly reminder and add their name as a personal touch to increase the likelihood they'll make a purchase.
A study by Moengage suggests that cart abandonment push notifications enjoy a click-through rate (CTR) of 16%, encouraging users to re-open the app and complete their purchases.
You can also notify customers when they've placed an order when you've shipped it and, finally, when it's out for delivery. By doing this, you keep customers happy while reducing the burden on your customer service teams, who no longer need to manually provide status updates.
Reminders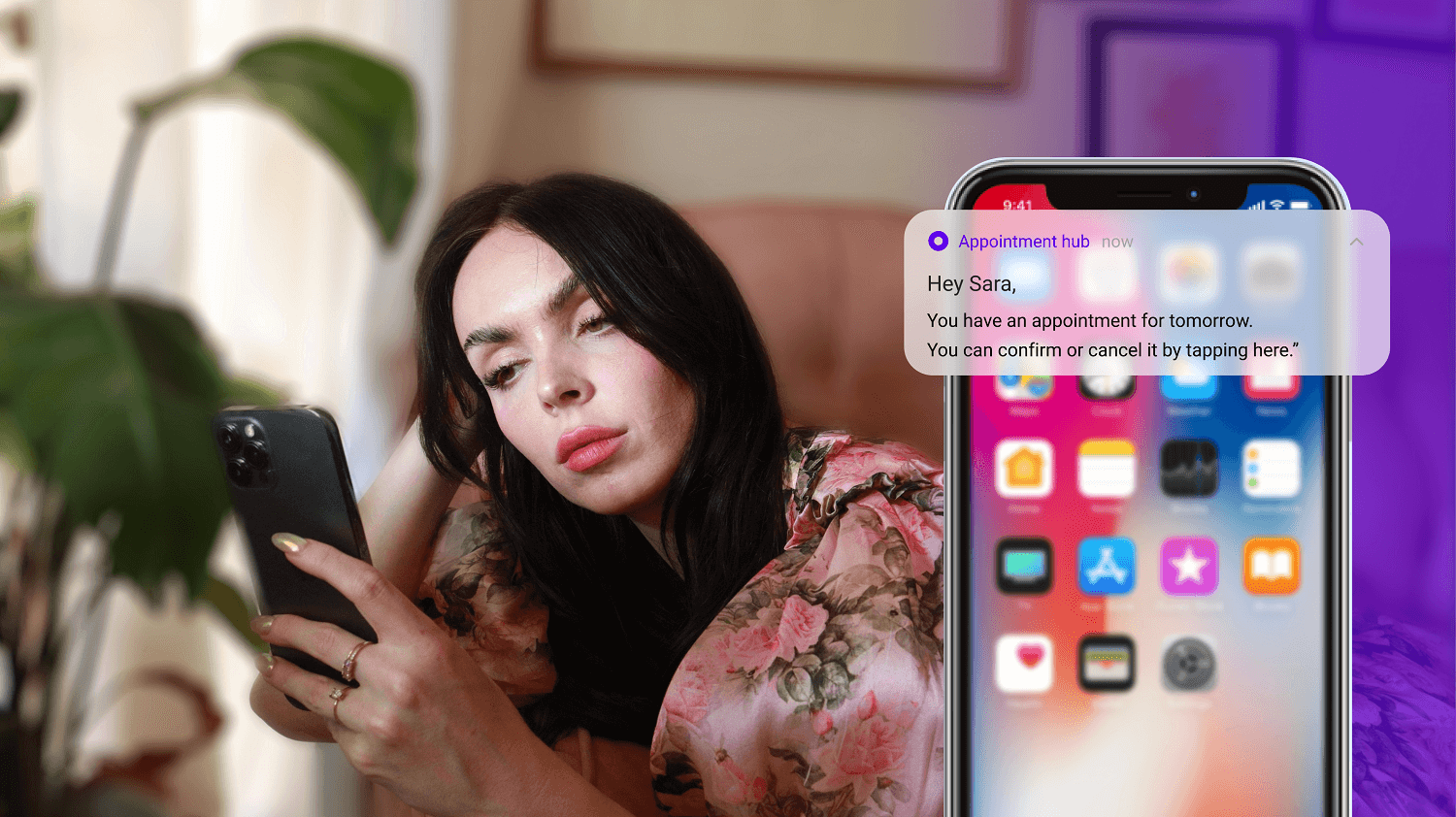 These work like little alarms and make sure your users don't forget important stuff. They pop at the right time, providing heads up for the tasks that need to be done. Reminder notifications can be personalised to the preferences of your users to keep them engaged.
Language learning app Duolingo uses push notifications to remind learners they haven't completed a lesson yet. Meanwhile, doctor and dentist apps use them to remind patients of appointments.
Triggered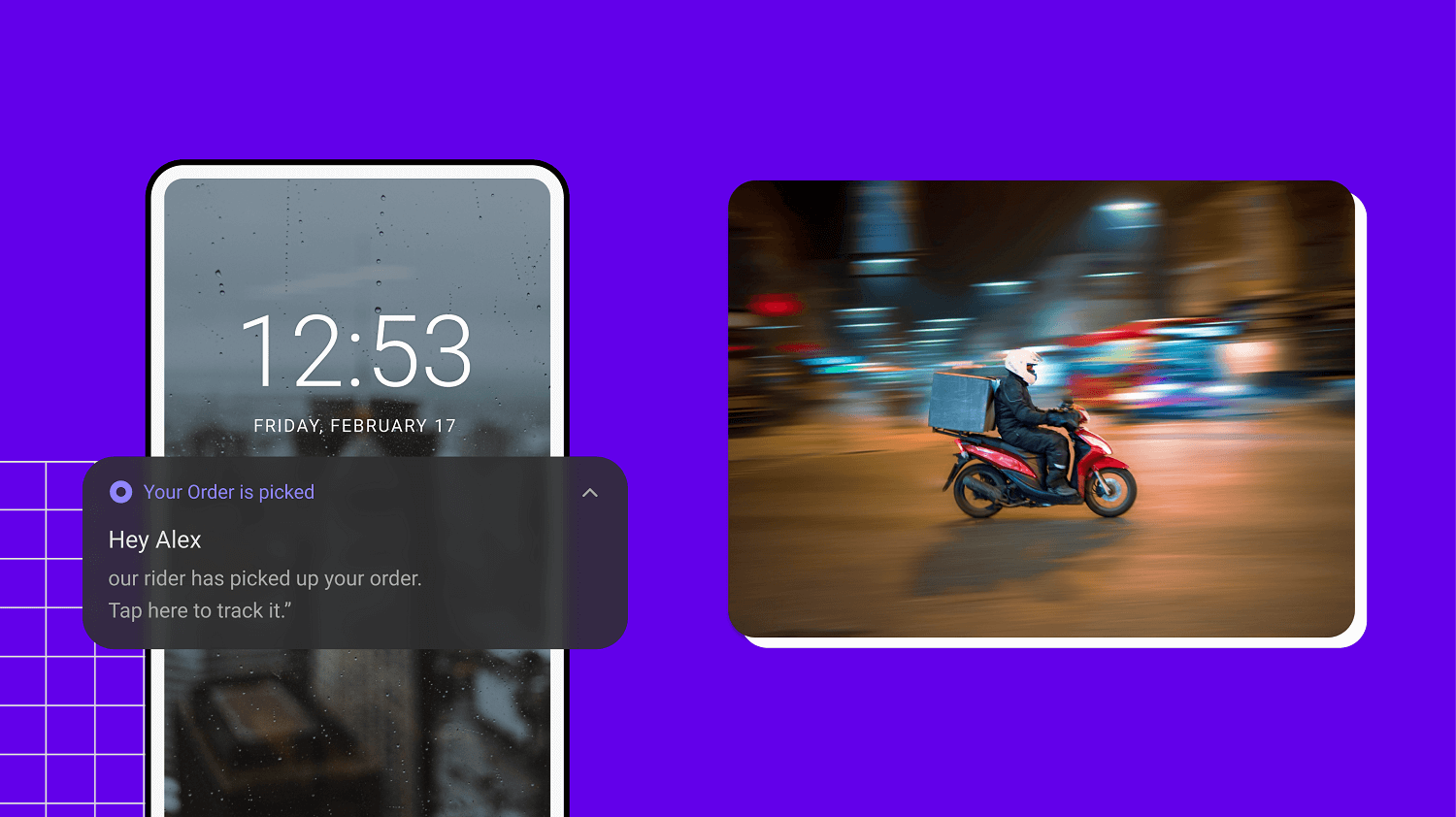 There are a variety of triggers that can toggle a push notification. There's a bit of crossover between the categories. You can have time-based triggers (reminders) and action-based triggers (order is shipped).
You can keep your users highly engaged by using triggered notifications as they get triggered at the right place at the right time. For instance, send welcome notifications and greet your new users, when they abandon the cart, if severe weather approaches an area, when a transaction occurs on the bank account, when users are within a predefined area and many more such examples.
When it comes to push notifications, the only limit is your imagination. They can be tailored to fit your users' specific needs and interactions. To get ideas for your business niche, we recommend looking at how your competitors use them.
Differences between push notifications, SMS and emails
| | | | |
| --- | --- | --- | --- |
| | Push notifications | SMS | Emails |
| Prerequisite | Requires app installation | Requires phone numbers | Requires email IDs |
| Costs | Cost-effective | Expensive for bulk messaging | Cost-effective |
| Opt-in requirement | Yes | No | Yes |
| Type of Content | Supports multimedia content | Supports multimedia content | Supports multimedia content |
| Personalisation | High personalisation | Limited personalisation | Limited personalisation |
| Engagement | Highly engaging | Limited engagement | Includes engaging elements |
| Legal Requirements | Opt in (in certain cases) | Limited legal compliance | High legal compliance |
| Read rate | High read rate | High read rate | Low read rate |
At first glance, there are a lot of similarities between the three. However, there are some differences that position push notifications as a superior choice.
Push notifications vs SMS
Both push notifications and SMS share a lot in common. They both appear on phones and aim to engage customers.
But to send SMS, you need to have the phone numbers of your audience and you're charged a fee when sending messages. On the other hand, push notifications are free but can only be sent if your app is installed on your customer's phone.
So is one better than the other? That's for you to decide, but what's clear is that they both have their uses. SMS can be pushed into your customers' phones without opt in. They can be used in cases where the information needs to be stored for a long time, like order confirmation messages, bills, OTPs and marketing messages.
Push notifications are something a customer expects to get. In some sense, they've opted in. Whether that's downloading your app or directly agreeing to receive them. They're much better in use cases like reminders, sales and discounts, user-designated triggers and more.
One of the biggest advantages of push notifications over SMS is that you can make use of rich push notifications and add some colour to your message with photos and your brand logo makes you stand out.
Push notifications vs emails
One big advantage of push notifications for small businesses and entrepreneurs is that the message is short. Writing good emails is a skill. Most people find it much easier to come up with one intriguing sentence rather than an entire email.
The next advantage is that push notifications show up directly on the users' screen. Emails can, but will often end up in inboxes that don't have notifications enabled. You have a greater chance of your message being read when using push notifications.
Lastly, there are fewer legal compliance rules with push notifications. This applies to SMS as well. Emails require you to comply with GDPR or CAN-SPAM regulations. Some countries have limits on how many promotional SMS messages a company can send per day. Once a user has opted in, you can send them as many notifications as you want, but that doesn't mean you should.
After all, bombarding users is likely to lead to them opting out.
5 key push notification benefits
What if I told you over 40% of the world's internet users will never see your ads?
That's because, according to Hootsuite, 42.7% of internet users use an adblocker. But if you send push notifications, you can avoid this and deliver promotional messaging directly to your customers.
And the benefits don't stop there. Here are five that will move the needle for your business 👇
1 - Engage your users and customers
If done right, push notifications can be super engaging, something that the data supports. E-goi, for example, achieved a 7x higher click-through rate by using push notifications instead of email. To replicate these results for your business, think about serving your customers with strong value props and clear calls to action (CTAs).
2 - Increase your conversion rates
You might have noticed push notifications from Amazon or other ecommerce retailers that notify you when you've failed to complete a purchase.
And the impact of these messages is plain to see:
Invesp, for example, found that 48% of mobile users made a purchase after receiving a targeted push notification like this.
Whatever your average order value (AOV) is, that's a huge extra slice of revenue for your business.
3 - Increase your customer satisfaction
Google found that 63% of smartphone users are more likely to respond to or engage with businesses and brands that make personalised recommendations.
Push notifications alert users about sales on their favourite product lines, offers across selected ranges or key information they're interested in. This creates a customised, personalised shopping experience that drives conversions whilst increasing customer satisfaction.
4 - Measure customer metrics
Push notifications allow you to measure customer metrics, including CTRs, conversion rates and engagement. As a result, you can perfect your notification strategy, tailoring it to specific groups of customers at different times and days.
Finetune your push notification strategy and you're well on your way towards higher engagement and higher conversions!
5 - Enhance brand consistency
According to Autogrow, brand consistency increases your revenue by 10+%. You can increase your brand consistency by being consistent with your messaging across all touchpoints and channels.
For instance, if your email campaign says there's a sale going about to start and then you send a follow-up push notification stating the percentages off on your product.
This will increase your brand consistency and customer retention by providing a seamless experience across all platforms.
Push notification best practices
Studies by RubyGarage show how push notifications can markedly boost user engagement and sales. All this is true but only to a point. The idea is not to annoy your users, as they can disable notifications altogether if you're not careful. Here are some best practices to follow so this doesn't happen 👇
Onboard your users
When a customer signs up for push notifications, what's the first thing you want to send them?
A promotion, of course. But if you want to become a trusted source of information, you should avoid this.
Instead, think about creating an onboarding journey that introduces customers to your brand and shares some of your most useful features. This increases the chances of your users getting value from your app and eventually becoming customers.
Invesp's data backs this up, as they found that sending just one onboarding-related push notification to new users during their first week increased retention by 71% over two months.
Segment your audiences
Segmenting allows you to give your customers the right content at the right time and most push notification platforms make this easy to implement.
An ecommerce store that sells clothing, for example, might not want to send a push notification to its entire user base about a new line of maternity wear, for example, instead targeting it specifically at users between the ages of 26-35.
This is because many (although not all) users in the 16-25 bracket could consider this kind of message irrelevant, causing them to opt out of your communications.
Pick your moment
It's also worth thinking about the best time to send notifications. Scheduling allows you to create your push notification in advance and send them at a predefined time.
If you've collected lots of customer data, you can optimise this for a huge boost in click-through rates. To ensure the best outcome, get to know their preferences and behaviours and create highly personalised content that shows up at just the right time.
As a simple tweak, ensure you're not scheduling notifications during the night – you want to increase the chances your customer will read it.
Create an opt-in strategy
Creating a killer opt-in strategy will become the key to nailing user engagement without being pushy.
First up, don't bombard your user with permission requests when they open your app for the very first time. Unless your brand is highly respected, users are likely to say no and you'll be associated with spam.
Second, timing is of the essence here. You must wait until a relevant moment to request permission where they are most likely to opt in. For instance, when they place an order. You can say, "We'd like to send you updates about your order. Is that ok?"
Third, keep it simple and transparent. Clearly explain to your users what's in it for them, like exclusive deals, perks or sneak peeks. Assure your users of their privacy and that their data is secure with you.
Creating your own opt-in strategy is good for you because once your user opts out of notifications, then it means you've lost them forever, and only the most determined users will go through the settings to receive your notifications.
Push notification setup (Android + iOS + web)
Great news! You're sold on the value of push notifications and are ready to start using them. But how do you set them up?
Well, on the one hand, you can do it yourself, although the process is quite technical.
To set up web notifications, for example, you have two main options, depending on the levels of customisation you're after.
For maximum customisation, it's worth exploring the W3C Push API, while Google's push notification tutorial has a slightly easier setup, but you'll still need some coding knowledge.
Setting up Android and iOS notifications, meanwhile, requires much more technical knowledge. Firebase Cloud Messaging is the easiest way to add multi-platform push notification support to your app.
On the other hand, if you don't have the technical skills or the time to set up your push notifications from scratch, you can get help. Most app builders include push notification functionality as standard, while development agencies can easily build it on your behalf.
Final thoughts
If used correctly, push notifications can deliver value to customers and revenue to your business. Which is a pretty good excuse to start using them. If you haven't built your mobile app yet, you can use our no-code app builder. It's easy, fast and cost-effective and you don't need any coding skills.
FAQs
If that wasn't enough, here are some quickfire push notification Q&As:
Why don't push notifications always get delivered?
Battery saving mode is on – this stops almost all app publishers from sending notifications.
User has disabled them at OS level – this can be a permanent block or "do not disturb" is turned on.
No internet connection
Device issues – certain devices have a bug where they only display notifications if an app is opened.
How can you boost push notifications delivery on Android?
Ask your customers to add you to the approved list. Once you're on it then your app is on the exempt list and you'll be able to send notifications even if battery saving mode is on!
What are device tokens?
This is a unique identifier that the OSPNS (Operating System Push Notification Service) assigns to each device. User data is associated and stored alongside the device token to support segmentation. Businesses select the groups they want to target and the OSPNS sends a push notification.