Once considered an "extra" option for businesses to gain competitive advantage in the market, today digital transformation is more a matter of survival. In 2018, if you had suggested moving your offline business online, you'd have been called a profligate idiot. But today, small businesses without an online presence are regretting procrastinating digitization. Brands like Walmart, FedEx and Pizza Hut have already been serving customers online for many years. But small businesses were caught totally unprepared for the year that was 2020.
Numbers on the real impact of COVID-19 on small businesses
The 'SME Competitiveness Outlook 2020' report conducted by the International Trade Centre, which surveyed over 4,400 businesses spanning 132 countries from April to June 2020, found that one in five small businesses were at high risk of bankruptcy within three months. Approximately 55% of the survey respondents reported that the pandemic had "strongly affected" their business.The number rises to nearly two thirds when accounting for only micro- and small enterprises. A press release from the report's initial launch highlighted that factory shutdowns in the EU, US, and China – which together account for 63% of world supply chain imports and 64% of exports – were expected to amount to $126 billion in losses last year.

Looking back: How small businesses approached 2020
In early 2020, small and medium-sized businesses across the world responded in similar ways which included protecting their employees and communicating changes in operations with customers. Some companies were quick to preemptively reach out to government, industry groups and business support networks for loans. But interestingly, beyond these immediate tasks, businesses diverged in their responses.We've seen businesses adopting one of the following three strategies:

Retreat: Those with retreating strategies chose to lay off employees, sell off assets or take loans even if it puts their long term viability in question.
Resilience: Small businesses that followed a strategy of resilience chose to shift the sales mix towards online channels, source from new suppliers or learning to telework.
Agility: The agility strategy involves transforming yourself to fit any given situation. Even in nature, agility and adaptability are the secret to survival. Case in point, luxury brand LVMH went from producing perfume to making hand sanitizer. iPhone manufacturer Foxconn switched part of its production line to surgical face masks. While it may not be feasible for most SMBs to pick this strategy, those that can are successful in keeping production running in times of low demand, generate moderate revenues, and elevate their reputation as a brand that is responding to the real needs of their customers.

The SME Competitiveness Outlook 2020 survey also found that 20% of the participating businesses chose retreat and 20% could afford agility, while a majority (60%) were able to stay resilient and ride out the storm, due in large part to digital transformation. But what about millions of small businesses that weren't a part of this survey?What has and is still holding them back from digital success?
Digital transformation and the economy
The 2020 small business digital transformation study by Cisco sought to understand the opportunities and challenges that small businesses face during crises, the growing digital divide in the small business market and transformation challenges holding back small businesses from digital success.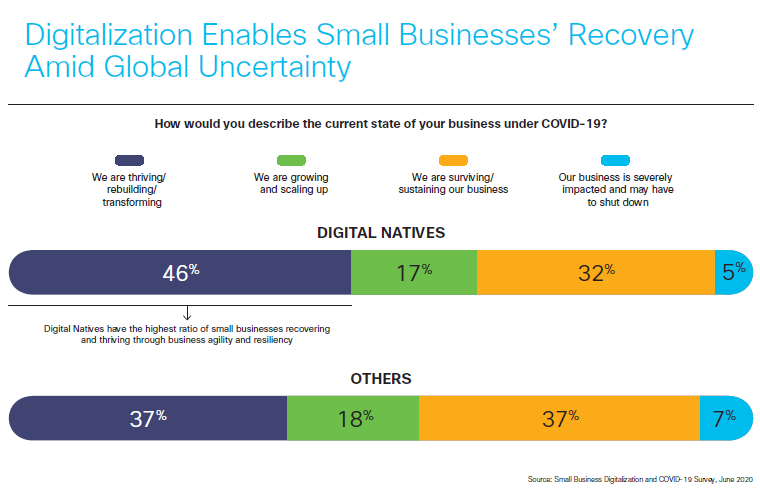 According to the report, a higher percentage of small businesses (46%) with the highest level of transformation are thriving and transforming during the pandemic, whereas 44% of those lagging behind in digital initiatives may have to shut down. Additionally, the Cisco report found that three quarters of small businesses are still in the early stages of digitization. Accelerating the digital competencies or maturity of half of these small businesses could be an economic booster: contributing an additional US$2.3 trillion to the GDP, or 42% growth, of those markets, while their economies could increase by 5.6% by 2024. Here's a snapshot of the data: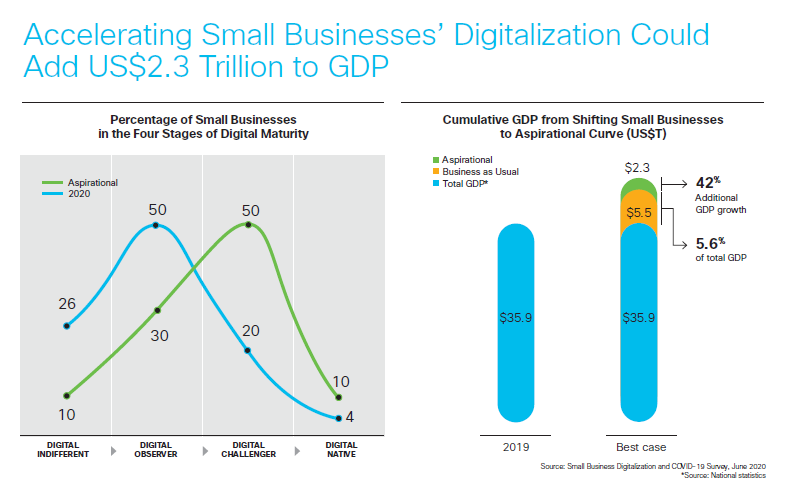 What keeps small businesses from digital transformation?
Digital technologies were flourishing even before the pandemic hit. The future was always going to be digital and there's no denying it. All that's changed is the pace at which businesses saw themselves pivoting to this new frontier...needing to digitize overnight to serve customers. Surprisingly, the 2020 small business digital transformation study found that budget wasn't a big reason holding back a majority of small businesses (snapshot below). The actual factors discouraging small businesses, you ask? Read on.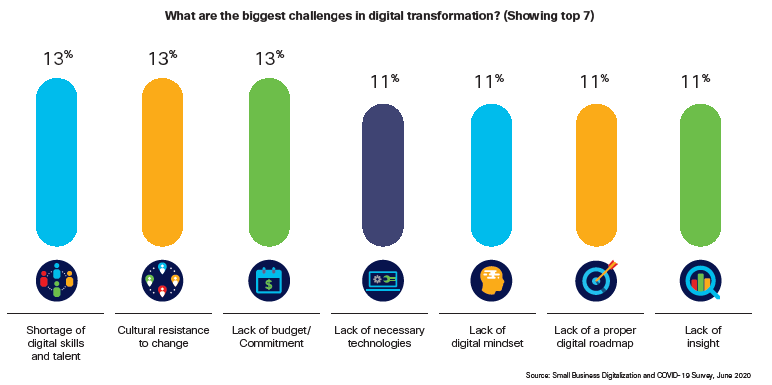 Let's look at the obstacles in detail, that are holding back small businesses around the world from being digitally minded and digitally successful.
Lack of talent and digital skills
Suddenly, digital initiatives need to change to digital imperatives. Suddenly, businesses need to rethink employee skill needs as business models change. Put simply, even if your workforce isn't quite digitally savvy, they will still need to have the basic requisite training to be able to contribute to seamless digital workflows and decision-making.

To be honest, the complex task of identifying and upgrading workforce skills only gets more convoluted when you take in account the soft skills necessary to ensure transformation success. Industry leaders like Facebook, Apple, Amazon, Google and Microsoft look for a digital skill set that includes engineering, digital transformation, Microsoft Azure, security, computer science and tech infrastructure.

But not everything Google can implement is feasible for a small business to do. It is safe to say that most firms who've undertaken digitization are doing so data blind. They have limited-to-zero information on the skills they need for transformation and the supply, availability and viability of those skills. This, therefore, is the largest impediment to digital success for small businesses.
Cultural resistance to change

Do you have a digital culture? Simply upgrading to digital technology doesn't mean your transformation is complete. In fact, it's only just started.In truth, digital transformation isn't about the software or technology - it's about organisational capability. Employees, especially those who work in small businesses, must be agile and open to change at all times. Otherwise, there will be pushback. By nature, human beings love routine. So, even if you're not able to remove all apprehensions from your employees' minds, you can still alleviate them and attain an almost-digital culture by being transparent, getting their buy-in on the new vision and involving them in every step of the strategy.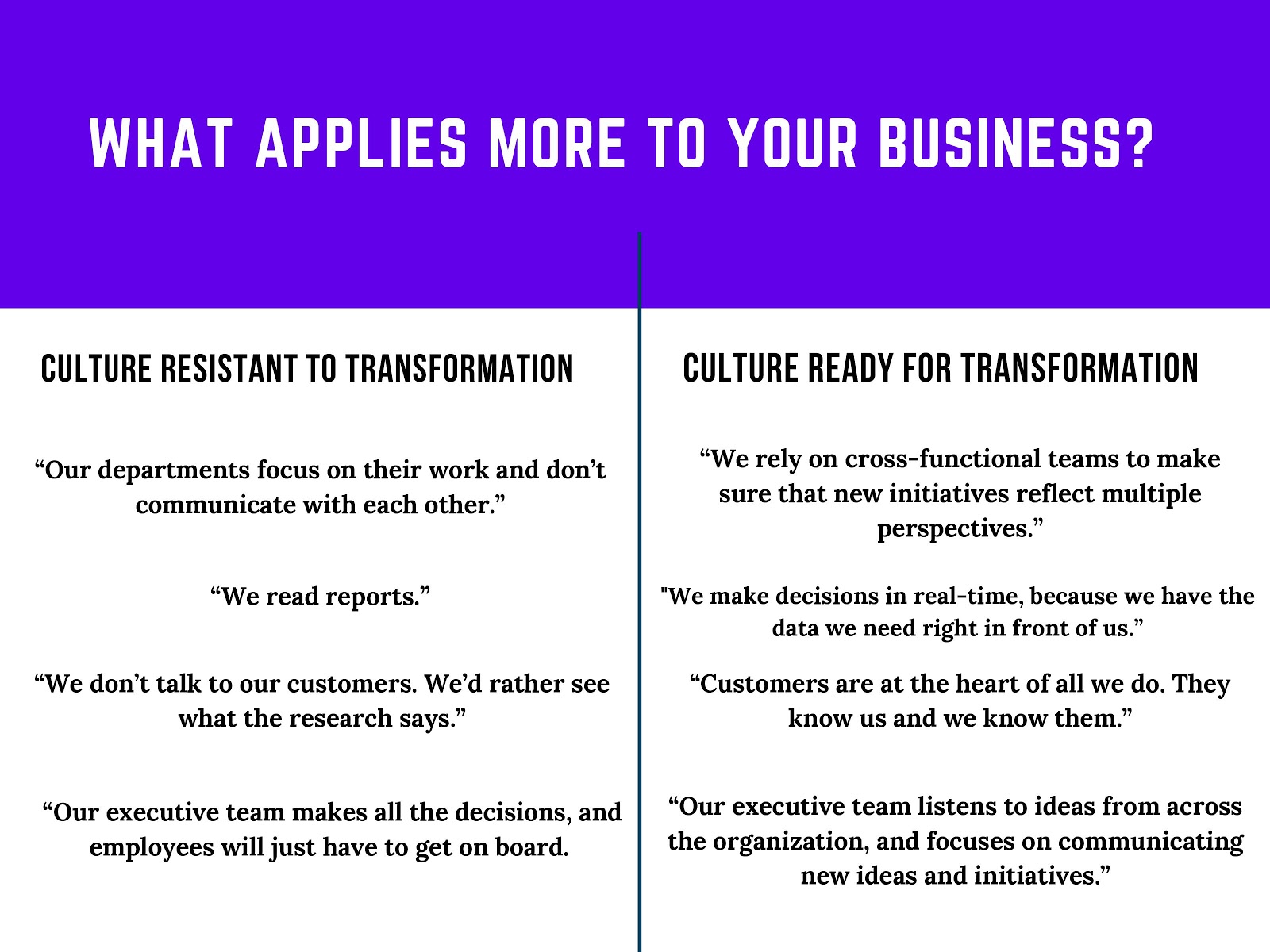 Lack of a proper digital roadmap
Setting out to digitally transform without a strategy and roadmap is like driving with blinds on.Most small businesses that decide to digitize make the mistake of assuming that they can figure things out as they go. Instead, small businesses can start by benchmarking current processes, making a plan of action for every process and prepare for a long-term adoption of digital intelligence as well as the jobs, skills and competencies inside and outside the company required to make the entire process a success. Here are 5 business strategies we recommend every digital business to try.

Change is hard, but digital transformation is even harder. No one understands that more than us. But as we always say: When in doubt, start by thinking about the stakeholders who keep your business alive: - your customers.Despite the turmoil of the pandemic, small businesses can recover and dare we say, thrive, if you let go of panic and turn your focus towards your customers. Let them help you realise who you are, what you do and don't do right now, how to meet their needs in the future and why you need to transform digitally. Need help? Here is a guide to creating a successful customer experience strategy.

Before you go, have you heard of MyRatesMagic? From recognising the challenges in the hospitality industry to becoming a successful web-based subscription platform which small hotels across the globe use to attain seamless operations, here's the journey of the brand.

Lakshmi Devan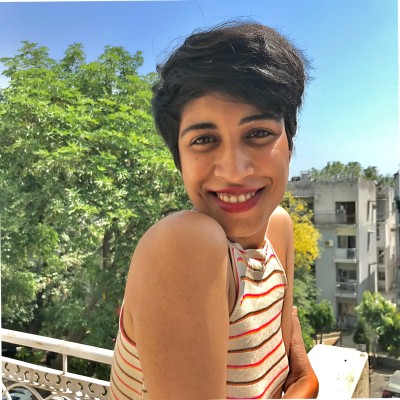 Senior Manager Content at Builder.ai
Lakshmi is a communications professional with over 6 years of experience across industries- from digital media and fashion to health and technology. She specialised in Integrated Marketing and Communications cum laude, and naturally, can work her magic best when handling public relations, marketing and editorial content and communication. Most people find her moderately introverted, conspicuously sassy, significantly energetic, and massively dog-loving.