Pre-Covid, it was normal to walk into a restaurant and be able to get a table. Making a reservation was typically reserved for large groups or eating at peak times. During the pandemic, reservations had to be made in order to ensure venues were not over their limited capacity and people had a set time to leave by. Restaurant booking apps became second nature to most people.
Now that we're out of the worst of the pandemic, many restaurants have a decision to make: do they keep the reservation-only system in place, or do they revert to their old ways? Many people are beginning to wonder whether reservations or walk-ins are better, so, we're going to answer that question for you.
The pros and cons of reservations systems for restaurants
Reservations – the benefits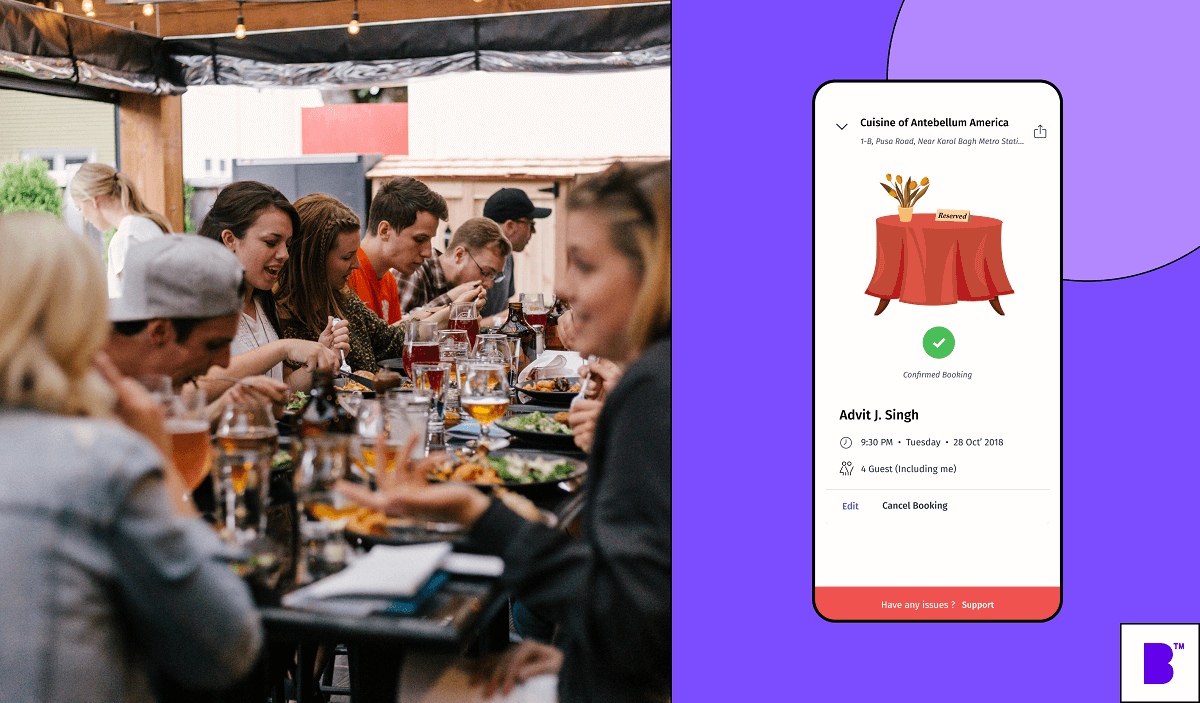 There are many benefits to reservation systems, especially for higher-end restaurants that have a reputation to uphold. This is because when people make a reservation – especially those with special requests – the restaurant team is prepared for it and can easily manage it. This creates the illusion of a smoother, more fluent service that is free of nasty surprises and lots of running back and forth to make sure everything is perfect.
Reservations also allow restaurants to plan staff schedules better because managers can see ahead of time how busy it's going to be. This prevents the issue of over-staffing and having staff hanging around with nothing to do, or worse, understaffing and not having enough team members on the floor.
For businesses who are trying to meet targets, reservations can give an indication as to whether things are working and if a marketing tactic needs to be changed based on how many people are coming in. Not just this, but you can also better manage your stock and avoid wastage.

Reservation systems that can be accessed with QR codes can also help to reduce queues and busy-period rushes, keeping both staff and customers happy. By simply scanning a code, customers can reserve a table at the next available time and be able to plan their days more efficiently.

Lastly, reservation systems via apps are ideal for customer service, as they not only speed up the process (with saved information for track and trace as well as general reservation needs), but they can also open up opportunities for customer loyalty schemes too!
Reservations – the negatives
While reservations do have many attractive qualities, they're not free from flaws. Reservations mostly work for established, high-end restaurants. For a more basic restaurant on a high street or in a tourist area, most of the clientele will likely be walk-ins. A reservation-only system can alienate them and have a big impact on profits in this instance.
The other notable downside to reservations is that people sometimes don't show up. If your restaurant is closed to walk-ins and you're banking on a group who never arrive, this can be problematic. Reservation apps can help to alleviate this, with reminders and options to quickly amend/cancel without having to call. In addition, you could also combat this by requesting a holding fee on the restaurant booking app you use. If they don't turn up, you keep the deposit for security. If they turn up, the money is deducted from their bill.
The pros and cons of walk-ins for restaurants

Walk-ins – the benefits
As mentioned, walk-ins tend to work the best for casual dining restaurants that don't charge quite as much. It's not a reflection of the quality of food, but the clientele tend to be more generic and there tends to be a lot more of them, making walk-ins a much more lucrative option.
If your restaurant is based in a tourist area or a busy high street, foot traffic will be high, meaning the potential is unlimited. In this case, keeping tables open for walk-ins is ideal.
Walk-ins – the negatives
The main issue with walk-ins is that nothing is guaranteed. You might think it will be extra busy one day, but roadworks or a competitor opening up nearby could skew the figures, again leaving you with either too many or too few staff.
Which is better?
There is no clear answer as to whether walk-ins or reservations are better because it depends wholly on your restaurant, its location and your clientele. That being said, you could find a hybrid of the two works well and provides an equal balance between the benefits of each.
If you are going to be accepting reservations, you'll need a restaurant reservation app to manage your bookings and ensure you don't double-book or under-sell yourself. You can choose from existing apps like OpenTable or ResDiary, or you could make your own that's tailored directly to your restaurant.
Need more marketing insight? Join the Builder.ai community
Building a restaurant booking app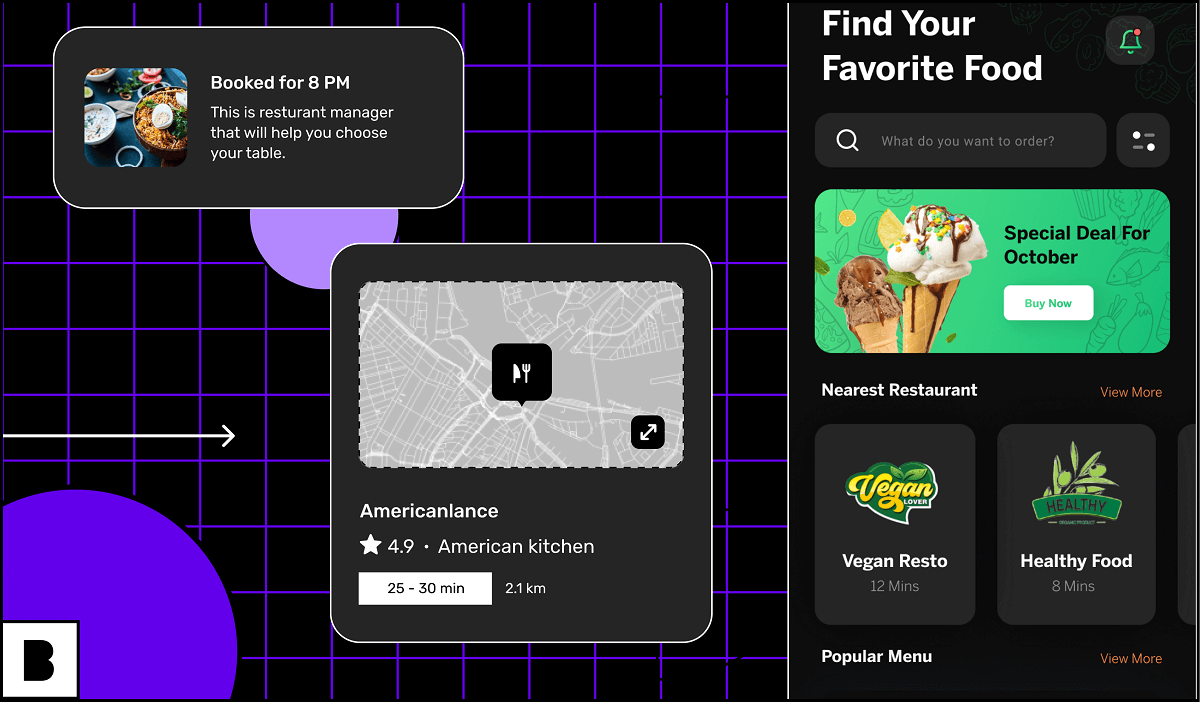 It's incredibly easy to build a restaurant booking app using an online app builder like Builder.ai. Despite the complex functionality of managing dates and times, there's no code for you to worry about, so all you need to do is add in your branding. Choose from our prepackaged restaurant app, with everything you need bundled together. Or go for a bespoke restaurant app. You can make it as basic or as complex as you like, and we can even sync it up to a wider restaurant management system so you can manage your team's schedules and stock levels.

We provide complete EPOS integration whilst ensuring our templates enhance the user experience through clever design and UI. We can develop simple restaurant booking apps that allow you to steal your customers back from other platforms, but we can also build on their functionality through table ordering and QR menus, customer loyalty schemes, and complete delivery management.
To find out more about increasing your restaurant business with an app, book a free demo and chat through your options with our experts.
Frequently asked questions
How to make a restaurant booking app?
Studio Store is the simplest way. You get all the restaurant app features like virtual queuing, kitchen management and contact free ordering and payments, bundled with hosting and maintenance for 24 months – all for a low price that you can pay in installments.
What is the best restaurant booking app?
Your restaurant is unique. Your booking app can be too. A custom-built app fits seamlessly into your workflow – it's built with your business processes in mind. Visit Builder Studio to start building yours. Choose an app that's similar to your idea – the base. Then add the toppings – features – that make it yours. You don't need any tech skills. Everything is simple and our team is always available if you want a hand.
How much does it cost to build a booking app?
You can get a complete restaurant app, including maintenance and hosting – and choose low monthly payments too. Check it out now. Or if you want a more complex solution, our AI powered approach means you'll get a fixed price and delivery date before you commit to anything. Take a look at our guide to mobile app development costs if you'd like to learn more.
Ananth Ramanathan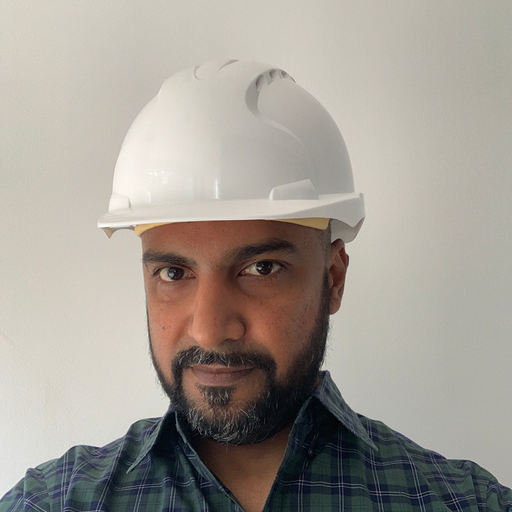 VP Studio Store at Builder.ai
Ananth Ramanathan runs Studio Store business at Builder.ai with a mission of digitising a 1M+ micro SMEs in the next 5 years. He oversees the commercial, product, and customer success functions to rapidly scale Studio Store globally. Ananth's an experienced tech business operator, a failed entrepreneur, and an active angel investor.