Imagine sitting in your office ready to dig into your to-do list when suddenly you are unable to work due to server hardware issues. Initially, you might love the free time afforded to you but as the day wears on, you probably start dreading the mounting pile of unaccomplished work. Unfortunately, these sorts of issues plague many organisations. You can only imagine the catastrophe.
Why move to the cloud?
In order to maintain their competitive edge, companies today need their employees to have fast, consistent access to their professional applications. To remedy days lost to hardware malfunctions, organisations are working on ways to leverage cloud solutions and free themselves from the physical hardware on which they run. With the use of virtual servers in the cloud, employees need not worry about a particular failure and can easily switch to the alternate system without worrying about any loss of data. These are the benefits of cloud computing that make it invaluable. To get the Cloud computing basics right, it's essential for SMEs and startups to have a fully secured data storage system in place.
The various types of Cloud computing solution are the answer to the old school, complex IT infrastructure requiring huge investments as well as a fully equipped IT team to run it.Cloud Computing is a service-based model that allows businesses to access networks, applications or storage reserves online via the internet on a pay as you use basis. To further the discussion on cloud computing, here are the basic types of Cloud computing solution along with their pros and cons (Cloud Computing types - Categorization based on the location of their deployment):
Types of Cloud Computing
Public Cloud
Organisations willing to go big with small investments should begin here. The public cloud is one of the traditional types of cloud computing solution; resources are shared to customers online and are easily accessible anywhere, anytime to subscribers. Here are a few pointers to keep in mind while choosing this type of Cloud Computing:
Public Cloud has the capability to scale easily from a couple users to tonnes of users and at the same time giving access to almost unlimited resources (for a fee).
Public cloud providers offer several payment options, but most users opt for the pay-as-you-go model despite incentives to commit to longer term payment plans.
Large enterprises with strict security requirements or regulations often avoid the public cloud, as they fear that providers may not meet their strict compliance required by an organisation.
Private Cloud
Cloud solutions that provide access to limited users under an organisation's private firewall fall into this category. Here a single organisation owns the data centers that provide complete security as data resides in-house (but still in the cloud). Such types of cloud computing solution can be expensive making small and medium enterprises to avoid these. Following are the key reasons why large enterprises hunt for Private Cloud Computing:
Private clouds can meet dedicated and process-oriented operations as per business requirements.
Provides real-time monitoring, disaster management and recovery, and timely backups providing a good fit for large organisations.
Hybrid Cloud
As the name suggests, in hybrid cloud environments, organisations can take control of privately managed services on a cloud while at the same time using the public cloud as and when needed. There are certain applications that require data security and integrity and cannot run on the public cloud. These thus must use the private cloud, while the other functions continue utilising the public cloud. The reasons why Hybrid Clouds may prove to be handy for certain firms but may get tricky for others are:
The hybrid cloud solution offers the flexibility of choosing the private or public cloud as per needs but increases complexity due to the implications imposed by using different cloud providers.
Large organisations often prefer this model since they can use cloud solution as per their need.
For example, an organisation may want to run test cases on Public Cloud but source the final production only on Private Cloud.
The Best Cloud for You
If you are looking at scalability cloud computing solutions right now, then it would be advisable to try and gauge your infrastructure requirements fully before you make a decision. Don't stress, the Cloud is only going to make your life much simpler! Once you've settled in on top of your game with the right type of cloud computing solution, you will find a lot of otherwise tedious manual interventions being replaced by smooth automated workflows. Our human-assisted AI works in the background to buy forward capacity from partners including Amazon Web Services to ensure that we can provide you with capacity exactly when you need it, and at the best price possible. We are the largest AWS partners in India and help move your infrastructure in a way that optimises costs. What's more: our AWS cloud wallet vastly improves monitoring for enterprises, allowing for controlled spending and fixed budgets, automated tracking, local currency support, with all information displayed in real time on an easy-to-use dashboard. You can mitigate the challenges of paying for cloud services by managing your expenses upfront, and access the AWS Free Tier without needing to register their credit card. Have a chat with our experts or give our AI Assisted Cloud Platform a try at BuilderCloud .
Lakshmi Devan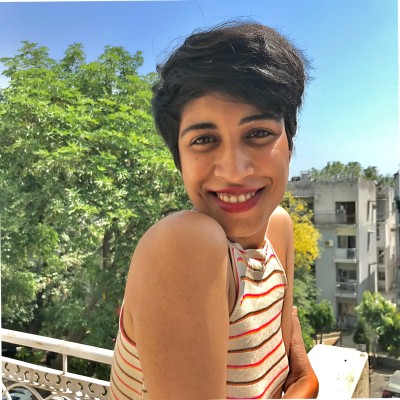 Senior Manager Content at Builder.ai
Lakshmi is a communications professional with over 6 years of experience across industries- from digital media and fashion to health and technology. She specialised in Integrated Marketing and Communications cum laude, and naturally, can work her magic best when handling public relations, marketing and editorial content and communication. Most people find her moderately introverted, conspicuously sassy, significantly energetic, and massively dog-loving.