As each day passes in 2020, every aspect of our lives metamorphoses into an increasingly digital future. Can revenue growth be stimulated by the clacking of keys? Can human connections survive in pixels? Are online meeting rooms the only hope businesses have to ever meet their sales targets? I cannot say for certain, for I am no prophet, but the one thing I can swear by is that while pandemics may come and go, virtual events are here to stay.
Before the COVID-19 crisis hit, Builder.ai was making a splash at a gamut of events each month- meetings thousands of entrepreneurs, SMBs and enterprises. This came to a grinding halt when lockdowns were instated and borders closed.
Up till then, we'd been on a mission to make the process of building a digital future more accessible, cost effective and efficient. And in that moment, we had 2 choices. Either to do nothing and let it play out or to help the businesses that needed us most- at a time when having a digital presence was the only determiner to survival.
"We witnessed disruption across all industries globally by COVID-19, and the way many of us interacted with our customers overnight has stopped, changed or morphed. Among those most vulnerable are the smaller businesses without an online presence that depend on their customers to walk through their doors. Although there is a lot of uncertainty right now, SMBs are presented with an opportunity to rethink how they do business. Having a thoughtful digital presence for businesses will be critical, which is why we are offering this assistance to all SMBs so that they can use this time to leapfrog ahead." – Sachin Dev Duggal, co-founder and CEO.
Therefore, we decided to help businesses impacted by the pandemic build their apps at a negligible price and provide the first three months of live service for free through our product, Studio Store.
Next, without wasting time, we launched our monthly virtual event, Builder Live. While digital experiences can incontestably never replace those offline, using the current crisis to reshape old habits will prepare us all better for the new future. Plus, virtual events are better for the environment, more accessible and flexible, and save attendees travel time!
So, for all reasons fair and simple, Builder Live is here to help your business digitally transform and succeed through this time. Here is everything to get you started.
What can I expect from Builder Live?
You'll get a live demo of our platform and if you'd like specialist advice about software development, you can go into a private virtual room with our customer product experts. This virtual event is completely free.
How do I join in Builder Live?
Once you register, we'll email you instructions about how to take part in the event. On the day, about 5 minutes before the scheduled time, you'll be able to connect. Click on the link in your registration confirmation email. For more details please click here.
What equipment do I need to be a part of Builder Live?
You'll need a laptop/desktop/mobile device with a webcam and microphone to join in Builder Live. We're using the Zoom platform. Download Zoom at https://zoom.us/.
I can't make that time. Can I view the recording later?
No, we don't share a recording, but Builder Live will be running every month. You can also setup a private product demo by clicking on this link (/builder-live).
Will there be a chance to ask questions?
Yes. Each demo session takes roughly 30-45 minutes, followed by a question and answer session. But you can definitely ask any questions you like, whenever you like.
Lastly, Builder Live is open to everyone and it's completely free.
If you are interested in knowing how Builder.ai can help you, then there was never a better time for it! Click here, then scroll down, fill in several details and we'll send you all the event information and the link to Builder Live event itself.
Trust us; it was never simpler to take your business to the next level. We hope to see you and address all your questions and concerns. Let's go!
Lakshmi Devan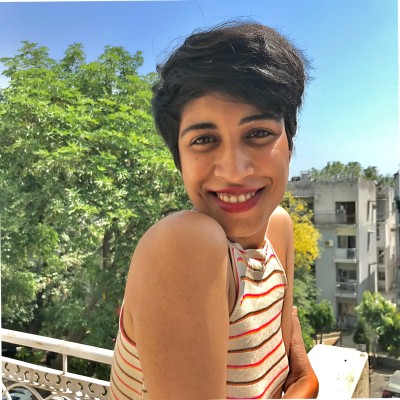 Senior Manager Content at Builder.ai
Lakshmi is a communications professional with over 6 years of experience across industries- from digital media and fashion to health and technology. She specialised in Integrated Marketing and Communications cum laude, and naturally, can work her magic best when handling public relations, marketing and editorial content and communication. Most people find her moderately introverted, conspicuously sassy, significantly energetic, and massively dog-loving.