Imagine a world where every interaction with a business is seamless and tailored to your specific requirements.
That's the promise of the conversational AI-powered virtual agents that are ushering in a step change for customer service, sales and support.
These intelligent machines use breakthroughs in Natural Language Understanding (NLU) and Machine Learning (ML) to understand and respond to customer inquiries with astonishing accuracy. They also excel at interpreting natural language in real time, guiding you through processes and seamlessly resolving issues.
So what exactly do the technology's use cases look like? And how do we expect them to evolve over the coming year?
In this blog, we're going to reveal all, discussing seven conversational AI trends you should keep an eye on in 2023 and beyond.
First up though, let's take a look at the technology's benefits in more detail, alongside its history and the current state of play.
Time to dive in! 👇
What are the key benefits of conversational AI?
While conversational AI promises to deliver a myriad of benefits, here are the most significant: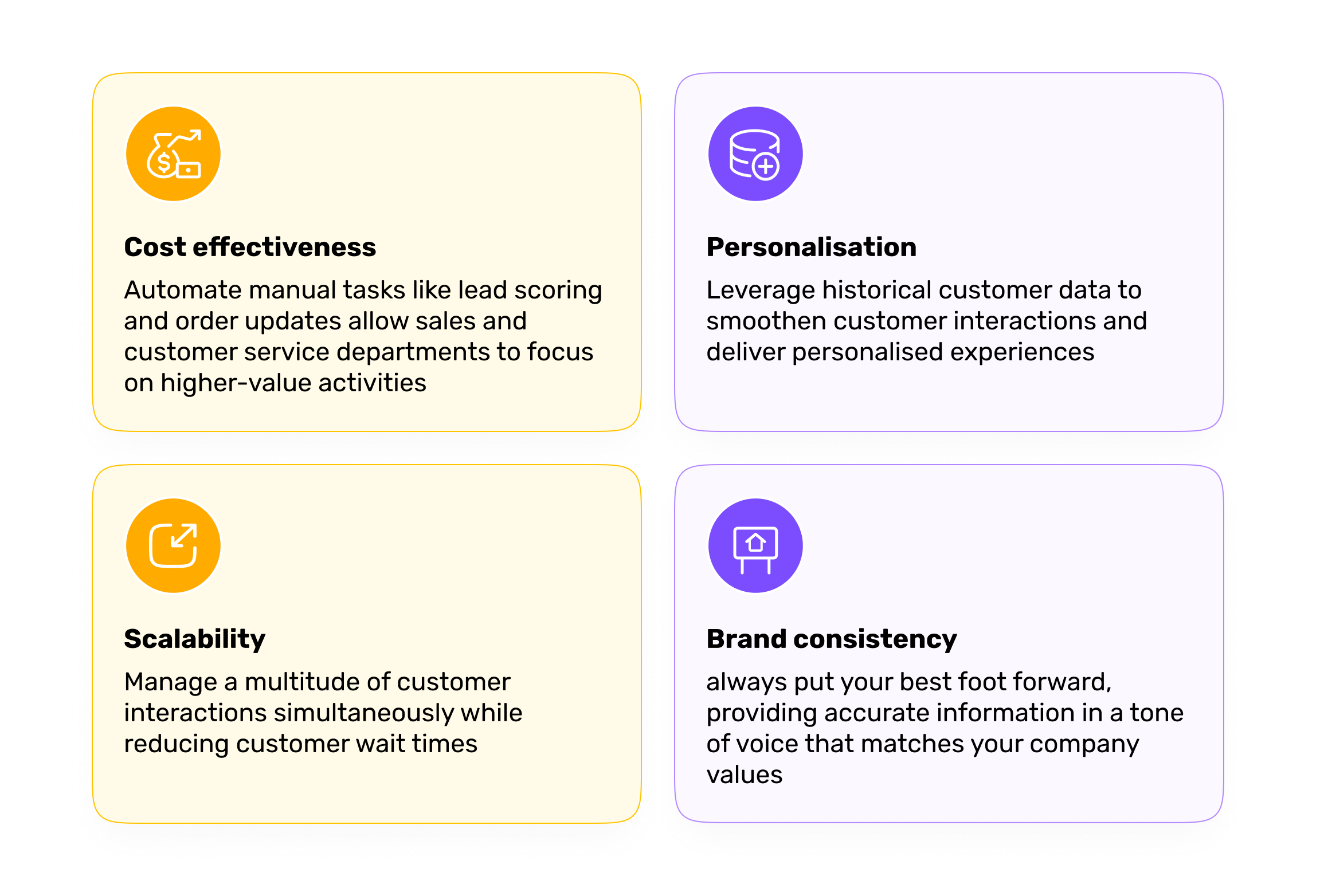 How did conversational AI become what it is today?
The COVID-19 pandemic is a key reason for the accelerated investment in natural language processing (NLP) technologies and the adoption of conversational AI.
For example, in response to the crisis, 52% of companies increased their AI implementation in 2020.
This trend reflects shifting consumer behaviours, with 59% expressing a greater emphasis on customer experience and the brands they choose to support. As the world shifts towards online interactions rather than physical visits, brands are compelled to improve their digital experiences in order to cater to this changing preference and cement their position in the hearts of consumers.
Notably, online chat and direct messaging have emerged as preferred customer contact channels, capturing the attention of tech-savvy Millennials and Gen Z. In 2019, interest in these communication channels increased to an impressive 62% in the United States alone.
Enter conversational AI, a solution that enables businesses to meet the digital demands of these customers.
From smarter chatbots to replacing automated phone support, here are the top conversational AI trends you should be aware of…
8 conversational AI trends in 2024
1 - Scalable tech will be critical for automation at the enterprise level

Scalability solutions are critical when it comes to enterprise automation. One common pitfall of Gen 1 chatbot projects is the deployment of specialised "mini-bots" with limited capabilities, which frustrate end users.
Consider a chatbot that can only answer credit card questions in a bank's website corner; its effectiveness is limited due to its narrow scope and visibility.
To meet this challenge, conversational AI solutions must adapt by providing a wide range of capabilities. Virtual agents that can confidently address a wide range of topics while providing 90% or higher accurate responses create a superior user experience.
DNB, Norway's largest bank, exemplifies this approach by utilising a virtual agent known as AINO. AINO has automated over 50% of incoming chat traffic within six months of launch, handling over 10,000 customer conversations daily, thanks to its deep knowledge across multiple subjects.
Scaling automated support and service necessitates a transition from specialised bots to versatile virtual agents.
Enterprises can improve customer experiences, increase efficiency and drive automation success by embracing broad-scope capabilities. The key is to implement conversational AI solutions that enable virtual agents to handle a wide range of inquiries, delivering value across the enterprise and cutting needless customer service costs.
2 - LLMs will help build smarter chatbots, faster
In 2023, the rise of Large Language Models (LLMs) will revolutionise the development of smarter chatbots. However, due to the generative nature of LLMs, which can result in inaccurate or false information, challenges persist.
Contextual company data can be fed into LLMs to address this, allowing AI trainers to streamline the creation of training data, test data and chatbot responses. LLMs become a powerful tool for enhancing virtual agents' capabilities by incorporating human oversight and quality control.
Rather than replacing human workers, LLMs enable AI trainers to become content managers, allowing them to work smarter and faster. This technology enables trainers to harness the power of LLMs, enhancing their expertise and allowing the development of even better virtual agents.
The synergy between humans and LLMs unlocks new levels of efficiency and precision as the boundaries of conversational AI are pushed further, ultimately elevating the chatbot experience to new heights.
3 - Automated chat will become the primary channel for customer service
A seismic shift is taking place as automated chat takes centre stage and becomes the primary channel for customer service. To get the most out of chatbots, businesses must apply a simple formula:
Value per interaction x number of interactions = value created
The key to maximising value is robust conversational AI technology that can handle high volumes of traffic while maintaining consistently high resolution rates.
Businesses can achieve large-scale automation by putting a virtual agent at the heart of their customer service strategy. This frees up phone, email and live chat for second- and third-tier support channels that the virtual agent can seamlessly transfer customers to if necessary.
This "chat-first" approach enables businesses to leverage the benefits of automation, lowering support costs while increasing customer satisfaction.
Companies that embrace the potential of automated chat position themselves to provide exceptional customer service, streamline operations and leverage the benefits of conversational AI to accelerate their success.
4 - Proprietary algorithms will replace off-the-shelf models
In the field of conversational AI, proprietary algorithms are poised to replace off-the-shelf models, propelling virtual agents to new levels of comprehension and effectiveness. Understanding customer queries is critical and advanced Natural Language Understanding (NLU) technologies will allow chatbots to excel in this area.
Gone are the days when chatbots could only handle a few hundred topics.
Advanced virtual agents powered by proprietary NLU, capable of handling 10,000+ intents while consistently delivering resolution rates above 90% in multiple languages, are the future.
These virtual agents will have advanced language understanding capabilities, allowing them to effortlessly navigate the complexities of human language, such as slang, dialects and colloquialisms.
This will become the standard expectation as conversational AI evolves.
Virtual agents will be able to provide unparalleled support and understand customers on a deeper level by reducing false-positive responses and parsing the nuances of human communication.
The emergence of proprietary NLU algorithms heralds a new era of chatbot intelligence, ensuring that virtual agents can truly provide exceptional customer experiences in the years ahead.
5 - AI will bring automated phone support into the 21st century

Conversational AI and voice-enabled platforms together are set to revolutionise automated phone support, bringing it into the twenty-first century.
Consumers are increasingly expecting to handle complex transactions using voice commands, thanks to the rise of voice assistants such as Amazon's Alexa and Google Assistant. Technology must step up to the plate.
Positive experiences with voice assistants, according to Salesforce, lead to increased trust in businesses, with 72% of users placing more trust in companies that provide satisfying voice interactions.
Voice bots emerge as the next-generation automated phone support in customer service, combining conversational AI with speech-to-text and text-to-speech capabilities to boost self-service rates beyond traditional chat interfaces.
Conversational AI vendors are expanding into voice services by leveraging their existing chatbot platforms' Natural Language Understanding. As automation extends to both chat and interactive voice response (IVR) systems within a unified interface, the lines between chat-based and voice-based virtual agents are blurring.
According to Gartner, by 2023, a staggering 25% of employee interactions with applications will be conducted via voice, a significant increase from the 5% recorded in 2020.
The power of conversational AI and voice technology will be harnessed in the future of automated phone support, providing customers with seamless and intuitive voice-driven experiences that will propel self-service capabilities to new heights.
6 - Simplicity will be key
Businesses are prioritising simplicity in order to cut costs and optimise operations in the face of economic fluctuations.
Conversational AI emerges as a potent solution, with scalability and self-service capabilities that streamline customer support while reducing overhead. Consider a world in which chatbots handle customer inquiries seamlessly, freeing up resources to improve the overall customer experience.
Internally, these virtual agents serve as centralised assistants, providing instant access to knowledge and increasing team efficiency.
Businesses can devote more energy to crafting exceptional customer experiences and exploring automated integrations that further streamline the customer journey with simplified information flow for both customers and employees. Conversational AI has the power to simplify the way we connect, converse and serve.
7 - The presence of SLAs will increase as data analysis remains a key focus


Customer experience (CX) reigns supreme in today's digital-centric landscape and businesses are realising the value of service level agreements (SLAs) to ensure exceptional customer interactions.
While SLAs have been around for some time, the emphasis is shifting away from product capability and towards the measurable impact on the customer journey. This evolution is being driven by data analysis and advanced analytics, which enable enterprises to derive valuable insights and metrics from their CX solutions.
SLAs will prioritise key factors such as response time, handling inquiries in the absence of live agents and overall customer sentiment during interactions with chatbots when it comes to conversational AI.
While gathering the necessary data to measure these metrics may be difficult, those who can demonstrate the effectiveness of their bot deployments will pique the market's interest.
CX has become a critical differentiator for businesses of all sizes, with global customer bases expanding and digital connectivity enabling seamless brand interactions.
Conversational AI is at the forefront of bolstering customer experience strategies as a result of digital transformation. The technology will play an increasingly important role, whether internally supporting support teams or guiding customers on their journeys.
Interacting with chatbots or voice bots will become a near-daily occurrence for digital consumers by next year, as technology continues to shape the way we interact with brands and elevate the customer experience.
8 - Conversational AI will help to improve lead quality
Beyond serving customers better, businesses can also streamline their sales processes by leveraging conversational AI.
How?
Because virtual assistants have the ability to automate lead scoring.
They do this by collecting information about customers' industry, job title and company size while also considering user intent.
An entry level employee asking about the benefits of your product or service, for example, should be entered into a nurture cadence, rather than being booked in for a demo with a salesperson.
On the other hand, a C-Suite executive who wants a quote for an enterprise plan needs to speak to a senior Account Executive at the earliest available opportunity.
With clear parameters set and the right triggers in place, this allows the sales team to operate more efficiently, prioritising deals with the highest revenue potential.
It also removes any subjectivity about the quality of a lead, ensuring that fewer deals slip through the cracks because of human error.
What does the potential of conversational AI look like?
The future of conversational AI is full of promise, with the global market expected to reach $41.39 billion by 2030.
This meteoric rise, fueled by the adoption of advanced artificial intelligence technologies and increased customer engagement, represents a resounding endorsement from both businesses and consumers. Conversational AI has clearly become an indispensable channel for communication and interaction.
Gartner says that chatbots and virtual customer assistants (VCAs) will dominate the customer service landscape by 2027, becoming the primary means of engagement. This shift is already underway, with 54% of businesses surveyed using Conversational AI in customer-facing applications.
The impact is undeniable, as enterprises around the world recognise Conversational AI's disruptive potential, with 56% recognising its transformative influence on their industries.
Conversational AI is cresting and businesses are eager to ride it to victory. Organisations are actively implementing this groundbreaking technology to gain a competitive edge, with cost reduction, revenue growth and improved customer satisfaction on the horizon.
Prepare for a future in which conversations with AI-powered assistants become the norm, transforming customer interactions.
Moreover, conversational AI is poised for remarkable advancements and transformative impact in the future. According to Juniper Research, it will save consumers and businesses 2.5 billion customer service hours while providing convenience and efficiency. According to Salesforce, 77% of customers believe that chatbots will change their expectations of businesses, resulting in better experiences.
According to Gartner, incorporating AI into multichannel customer engagement platforms can increase operational efficiency by 25%, allowing organisations to streamline processes and provide exceptional service. Furthermore, Markets and Markets anticipates that the global conversational AI market will be worth $18.4 billion by 2022, with a compound annual growth rate (CAGR) of 21.8%, indicating significant market expansion and adoption.
Conversational AI has enormous potential to revolutionise customer service, reshape expectations, drive operational efficiency and spur market growth in the future.
We can anticipate a world in which conversational AI becomes an integral part of customer interactions, transforming the way we engage and improving the overall customer experience, as businesses increasingly recognise its value.
Conclusion: Conversational AI stays put!
Although the hype surrounding chatbots and virtual agents has subsided, the era of conversational AI is here to stay.
While the initial excitement resulted in large investments and false starts, the market has now matured, with vendors delivering on the promise of automation to reduce costs, increase revenues and improve customer satisfaction.
According to Gartner's updated projections, conversational AI will be ready for primetime in less than two years. This classification change demonstrates confidence in the market's progress and technological advancement.
It emphasises the importance of companies looking for conversational AI solutions carefully selecting the right vendor to ensure a successful deployment.
The journey from hype to reality has led us to a watershed moment in which conversational AI has enormous potential to transform business operations and customer experiences. As the market stabilises, the true power of automation emerges, providing businesses with the opportunity to leverage the benefits of conversational AI and drive their future success.
For more AI insights, subscribe to our newsletter 👇
Need more ai insight? Join the Builder.ai community
Neetu Mogha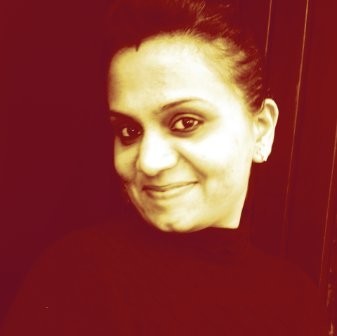 Neetu Mogha is a Tech Lead at Builder.ai where she applies 10+ years of management experience to guide the software development team. Neetu has a BTech in Computer Science from Hemchandracharya North Gujarat University.