Are you an entrepreneur looking to bring your business online? Are you still struggling with finding the best e-commerce app builder out there? Would you like a little help? At Builder.ai, we encourage and support entrepreneurship every chance we get! So, no matter what, we'll stick with you entrepreneurs (and intrapreneurs) to create and pivot your businesses towards success. Because there's no better time than today. Let's talk about every step in the e-commerce app development journey today, including the best e-commerce app builder for you- starting with the basics...
Every business is a digital business
From calling our family or friends on WhatsApp or Facebook Messenger to a heavy reliance on online shopping platforms (like Amazon and Uber Eats) across the spectrum of daily purchases- we depend on apps for everything . We even meet the love of our lives through online dating networks (from eHarmony to Tinder). In the post-COVID world, apps play an even more central role in the lives of loyal customers across the globe.
This rapidly changing marketplace has had just over a decade to come to maturity. Considering the first 500 apps to launch in the Apple App Store appeared in July 2008, to today with a whopping 2.57 million apps on Google Play as well as 1.84 million on the Apple App Store. Twelve years ago the mobile app revolution was in its infancy, now we're mobile first.
So what if the city is in lockdown? So what if customers cannot access your retail outlet anymore? You can still bring your business to your customers, right at their homes, through a simple click.
E-commerce mobile app development
Now that you've considered the benefits of digital transformation, how do you prepare yourselves for it? We think that the following three steps place you in good stead for engaging in true digital transformation with the best e-commerce app builder there is.
Define a vision for transformation
Begin by defining a vision for how digital transformation will transform your enterprise. Consider each and every aspect of your business, from first touch on the sales funnel to post-sales maintenance. Developing a clear and resonant vision for your digital transformation helps your employees and stakeholders understand the process, and also serves as an effective pitch for your future employees. Almost three-quarters of companies maturing through digital transformation state that having a digital vision has attracted dynamic new talent to their enterprises.
Make sure your employees are ready
Engage your employees in the process, emphasizing how digital transformation will enable better collaboration and communication. In some cases, you may need to assess how and even if your employees can keep up with the changes to come and perhaps even initiate some in-house training. You may be surprised, too, by how many of your employees are happy to participate in upskilling. This type of upfront investment can save you in cleanup down the road.
Choose the right technology partners
Finally, you want to make sure that you are partnered with vendors who support your vision for digital transformation at your company. Features to look for include partners that can scale to your needs, customize solutions, and provide transparent billing options.

What makes us the best e-commerce app builder?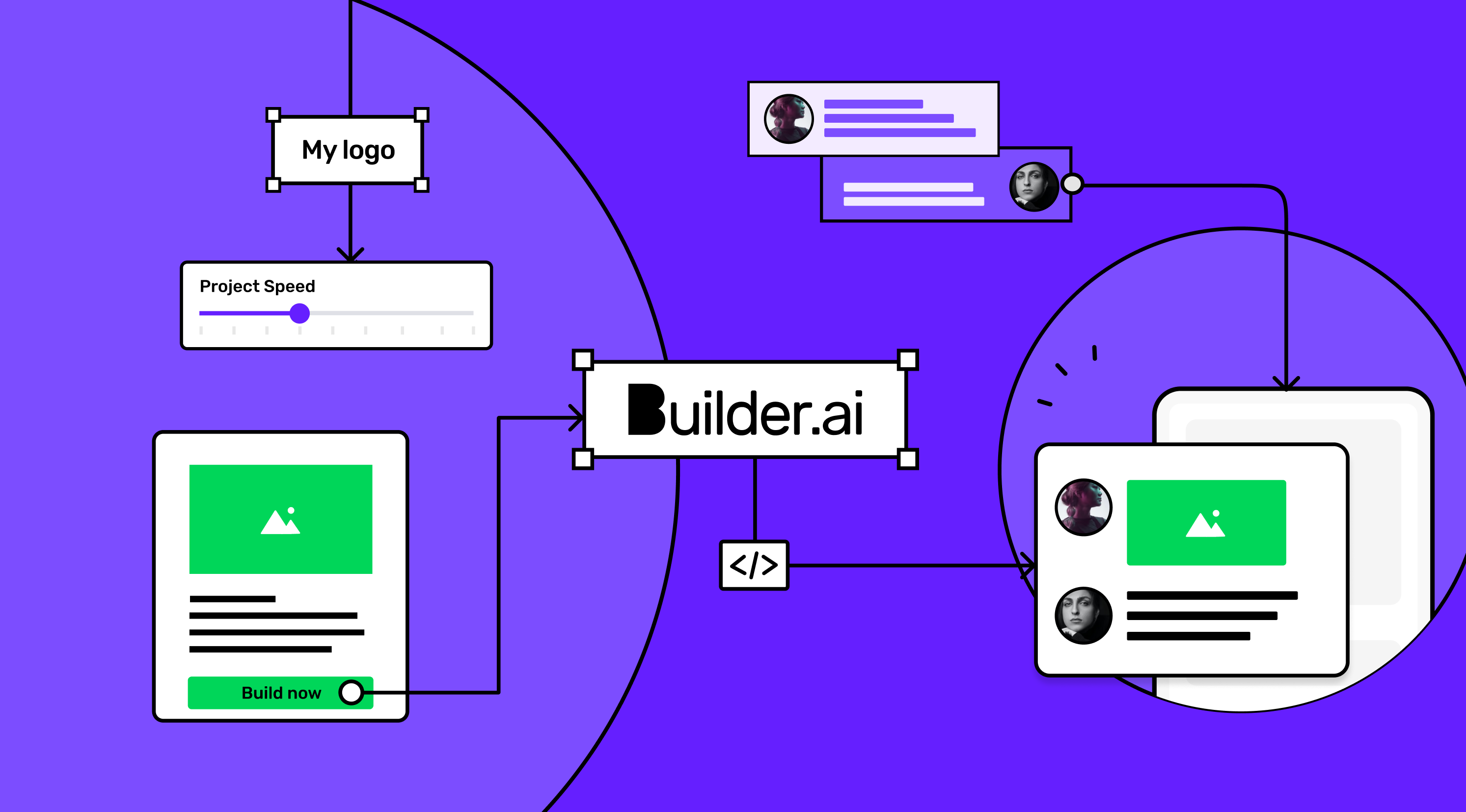 This may sound too proud, but we really think we've cracked the code! With Builder, it's easy to build software in a cost-and-time-efficient manner. Using Builder Studio, you can now design your idea (no matter how small), and our human-assisted AI will manage the process.
Builder makes business app development as easy as ordering pizza for individuals and enterprises alike. Builder Studio, Builder Cloud and Studio One help you build, run, and scale successful ideas. Here's how it works:
First, Builder Studio's drag-and-drop menu is so easy to use that anyone can build a project even if you know nothing about tech. Our process offers all the immediate, predictable benefits of Software as a Service (SaaS) with the customisation previously possible only from expensive and complex tailor-made software.
Then, once you start your build, our human-assisted AI manages a network of tens of thousands of expert software developers across the globe. There is little downtime, reducing costs for your business app development. These specialists deliver your idea efficiently, on time and without the errors normally associated with tailor-made software development.
Next, Builder Cloud brings you multi-cloud access in a single platform with fine grain analytics, DevOps automation and commitment-free cost savings. Our human-assisted AI works in the background to buy forward capacity from cloud partners including Amazon Web Services, Microsoft Azure, Digital Ocean and others to ensure we can provide you with capacity—exactly when you need it, and at the best price possible.
Afterwards, Studio One is a service that proactively updates your app, so you're never blindsided by 3rd party changes that could easily bring it all down. Even if it means an app needs to be totally rebuilt (something we can do effortlessly as we're always updating the core features your software was assembled from).
Are you ready for digitally transforming your business and expanding your offerings to your loyal customers? Our expert team would love to help you. Click here to get started today!
Priyanka Kochhar
VP of Product at Builder.ai
Entrepreneurial senior management executive of fast growing technology businesses. Successful in taking ideas from concept to profitability, using a blend of lean, agile and rapid result methodologies. A background in building and managing cross-functional and hybrid teams, with a record for retaining talented individuals and delivering results. Skilled in developing and maintaining a clear product and project vision, strategy and roadmap. Willing and able to adapt to changing environments. Often named as a Crisis Manager with a vision to "Make Things Happen".