Customer Background:
The donation portal which was developed by the software development team at the Centre for Development of Imaging Technology (C-DIT) is a transaction portal which put in place a proposition viz. "Stand with Kerala" and provided benefits in terms of speed and ease of use and was integrated with the backend CMDRF system.
Business Challenges:
The donation portal was developed in the context of the August'18 natural calamity and has contributed substantially to the efforts towards rebuilding Kerala. The parameters of system performance generated during the period are revealing.
On 18th August 2018, the traffic on the donation portal shot up, the bandwidth and resources required exploited and the donation portal crashed by afternoon. The distribution of users on the portal rose to 4,20,000 and touch 6,00,000 at the peak duration. On 19th early morning migration to the AWS server was done. C-DIT then engaged Builder.ai to build a solution to this growing problem.
Business Outcome:
The variation in server connection time as recorded by the webserver is provided in the figure below. The latency rose to exceptionally high on 18th August. After migrating the Amazon web server the server connection time dropped to a few seconds.
Builder.ai developed a solution for C-DIT with Infrastructure which was highly available, scalable and agile to handle such huge load with minimal manual intervention.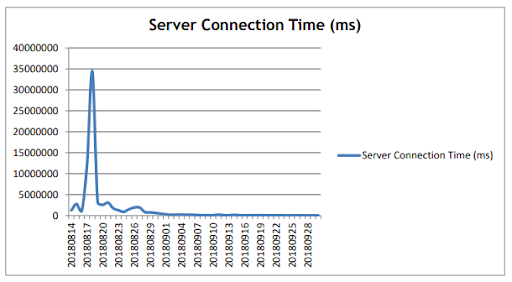 Solution Architecture: