Businesses today are increasingly looking to move or build their applications on Cloud platforms to improve agility or meet dynamic requirements that stem from globalisation and responsiveness to market demands. Once deployed, these applications also need a lot of help in order to be consistently successful. This help often comes in the form of 'workload'- a set of components that support an application. It could consist of data, the configuration of an application, the configuration of computing hardware resources, the configuration of services that support the application, and the configuration of network connectivity. If you succeed in matching your workload needs with the right Cloud service, you are guaranteed to get that much closer to your business goals.
So while it is possible to simply push your application onto the Cloud and forget about it, if you are looking to optimise and receive maximum benefits from the endeavour, then we recommend that pair your workload with the flexibility and security the right choice of Cloud can provide.
So, what is the right Cloud for you?
The answer to this question lies in understanding what kind of workload in the picture. Workloads can be classified into several different categories based on their architecture, resource requirements, resource consumption patterns, and user traffic patterns. According to the opengroup.org, when looking at application workloads, several dimensions have to be considered. Are applications supporting seasonal businesses such as retail, ski, and snowboarding instruction schools, boat rentals, or travel hospitality? These SMEs are most likely to have high variability when it comes to their computing needs. The same is true for computing needs that are of a temporary nature, such as capacity needed for specific projects, User Acceptance Testing (UAT), or during mergers and acquisitions. Additional dimensions to consider are:
Legacy applications: Most likely very difficult to move to the Cloud, especially public Clouds. Legacy applications have a tendency to have specific requirements; requirements that are not compliant with the Cloud specifications.
Standard front and back-office applications: Compared to legacy applications this is definitely the application stack that needs to be further assessed. The chances are much better that standard applications can fulfill the Cloud specifications required by the service providers.
Batch or online workloads: The pattern of batch versus online workloads needs to be carefully assessed. Batch workloads may require a lot of memory and storage capacity versus online workloads which may require more computing and network power. Again, these are different workloads and it is important to understand which workload is appropriate to be moved to the Cloud.
Workload frequency: This is similar to what was discussed above regarding supporting seasonal businesses; however, here it is more about supporting, for example, month-end business processes and the like.
Workload cost: When putting together the business case for moving applications to the Cloud it is important to understand what the baseline is. In other words, how much does the analyzed workload cost today (factor in hardware, software, operating, etc.)? This influences the selection of Cloud service providers when it comes to crunching numbers.
Keeping these factors in mind, let's look at the basic types of Cloud computing solutions:
1. Public Cloud
Organisations willing to go big with small investments should begin here. The public cloud is one of the traditional types of cloud computing solution; resources are shared to customers online and are easily accessible anywhere, anytime to subscribers. Here are a few pointers to keep in mind while choosing this type of Cloud Computing:
1. Public Cloud has the capability to scale easily from a couple users to tonnes of users and at the same time giving access to almost unlimited resources (for a fee).
2. Public Cloud providers offer several payment options, but most users opt for the pay-as-you-go model despite incentives to commit to longer term payment plans.
3. Large enterprises with strict security requirements or regulations often avoid the public cloud, as they fear that providers may not meet their strict compliance required by an organisation.
2. Private Cloud
Cloud solutions that provide access to limited users under an organisation's private firewall fall into this category. Here a single organisation owns the data centers that provide complete security as data resides in-house (but still in the cloud). Such types of cloud computing solution can be expensive making small and medium enterprises avoid these. Following are the key reasons why large enterprises hunt for Private Cloud Computing.
1. Private clouds can meet dedicated and process-oriented operations as per business requirements.
2. Provides real-time monitoring, disaster management and recovery, and timely backups providing a good fit for large organisations.
3. Hybrid Cloud
As the name suggests, in hybrid cloud environments, organisations can take control of privately managed services on a cloud while at the same time using the public cloud as and when needed. There are certain applications that require data security and integrity and cannot run on the public cloud. These thus must use the private cloud, while the other functions continue utilising the public cloud. The reasons why Hybrid Clouds may prove to be handy for certain firms but may get tricky for others are:
1. App generators or app builders have had their days numbered for many days. By in large they produce poorly designed applications that small businesses just about manage to use. This comes to an end in January, as Apple today announced the end of life for any business that published Applications using template or app building services.
2. Whether this extends to low-code systems or not, no one yet knows, but if Apple is targeting general quality of apps then it's probably worth looking into alternatives.
3. The hybrid cloud solution offers the flexibility of choosing the private or public cloud as per needs but increases complexity due to the implications imposed by using different cloud providers.
4. Large organisations often prefer this model since they can use cloud solutions as per their need.
For example, an organisation may want to run test cases on Public Cloud but source the final production only on Private Cloud. Once you've settled in on top of your game with the right type of cloud computing solution, you will find a lot of otherwise tedious manual interventions being replaced by smooth automated workflows. Now let us tell you a little about Builder Cloud.
Our human-assisted AI works in the background to buy forward capacity from partners including Amazon Web Services, Microsoft Azure and Digital Ocean to ensure that we can provide you with capacity exactly when you need it, and at the best price possible. Want to know more? Click right here.
Lakshmi Devan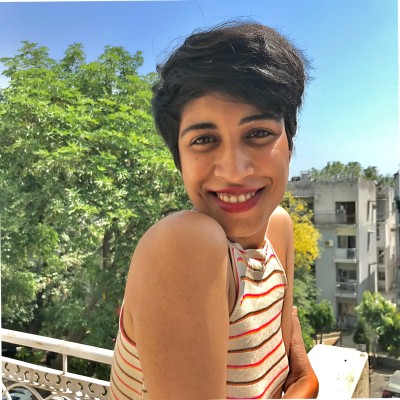 Senior Manager Content at Builder.ai
Lakshmi is a communications professional with over 6 years of experience across industries- from digital media and fashion to health and technology. She specialised in Integrated Marketing and Communications cum laude, and naturally, can work her magic best when handling public relations, marketing and editorial content and communication. Most people find her moderately introverted, conspicuously sassy, significantly energetic, and massively dog-loving.