Builder.ai vs Woocommerce
Want to create your online store with a "Great" online store builder, as voted by TrustPilot? Need more than just WordPress compatibility? We've got you covered.
Start selling online in as little as 2 weeks

Get step-by-step support to set up, manage and grow your business

Pay in 24 affordable monthly instalments (and own your code)
Serving the world's leading brands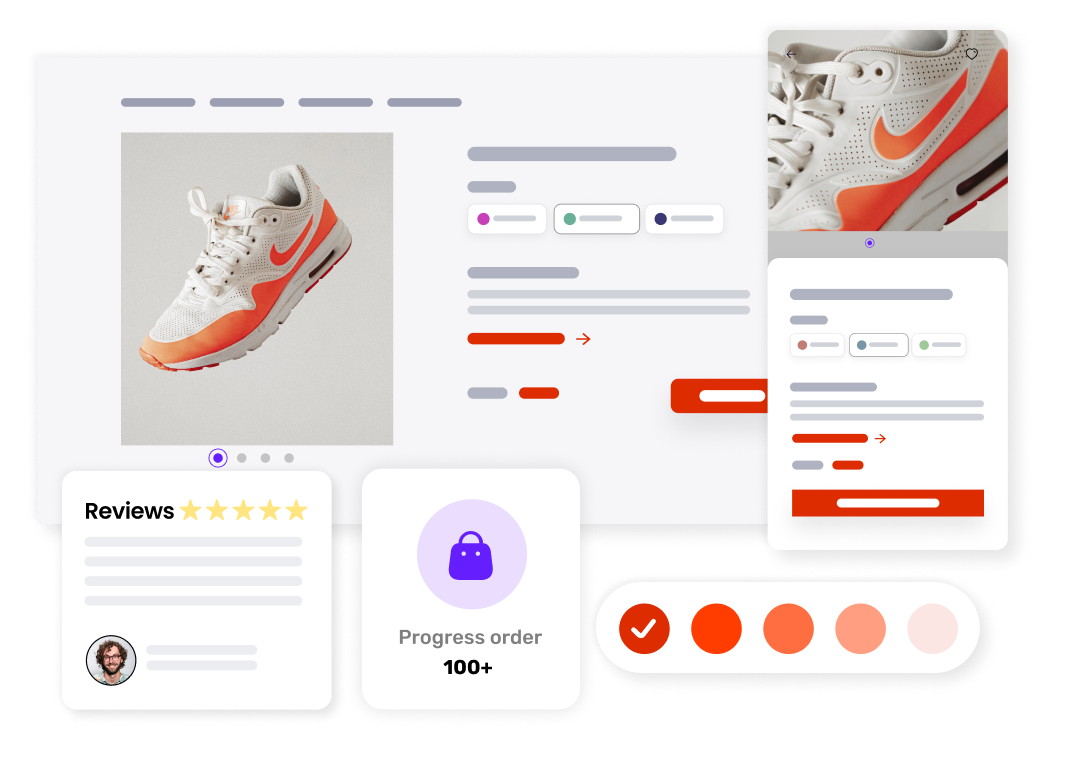 Why Builder.ai is the best Woocommerce alternative
Start selling online in 2 weeks; no tech knowledge needed
Whereas you need tech skills or third-party assistance to set up your WooCommerce store and make customisations, Builder.ai handles all the technical requirements in house.
Read more
This allows us to speed up the delivery of your online store to as little as 2 weeks, whereas you'll wait for at least 3-4 weeks with WooCommerce.
What's more, our Studio Store package comes complete with 24 months of aftercare, ensuring bugs and out-of-date software don't harm your conversions.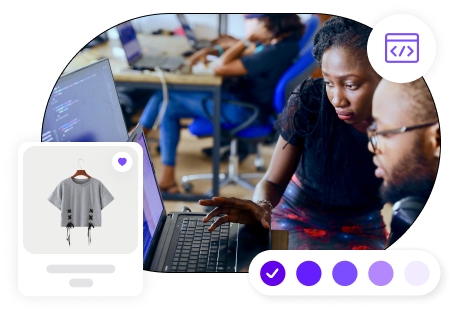 Get total visibility on the cost of your online store
To build a website or app using WooCommerce, you either need to do it yourself or hire third-party developers. So even though WooCommerce is a free open-source platform, you may need to pay setup and maintenance fees, while web hosting, domain registration, themes, plugins and payment processing all come at an additional cost.
Read more
By contrast, with Builder.ai, there are no third parties involved. That means you know the total amount you'll pay for your store before you make any commitments. This fee is then divided into 24 affordable monthly payments.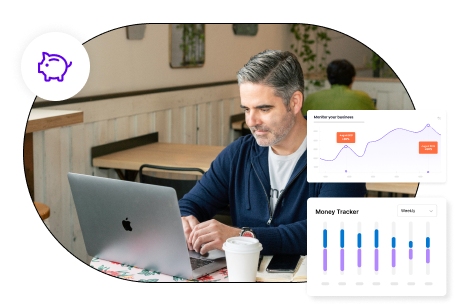 Grow your website and app alongside your business
WooCommerce is an open-source platform, meaning you don't own the code of your website or app. This makes it challenging to create custom functionality or migrate your store to another platform without starting from scratch.
Read more
But with Builder.ai, there's no vendor lock-in, and you own your code once your payment plan is complete, meaning you have freedom to scale without us.
What's more, you can add a range of ecommerce features through our StorePlus expansion pack to cater to emerging business needs. This includes everything from abandoned cart campaigns to advanced reporting, while loyalty and referral programs, custom forms and more are also available.
You can also customise your store template with Builder.ai at any time and bulk upload products to your inventory to save time.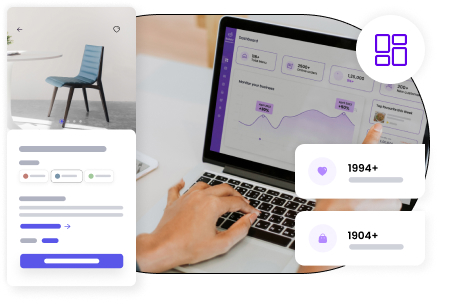 Builder vs Woocommerce comparison
| | | |
| --- | --- | --- |
| Trustpilot rating | | |
| Website | | |
| Mobile app (Android + iOS) | Part of all-in-one package | Requires third-party services to convert ecommerce websites to apps |
| Fixed costs | Off-the-shelf pricing model means online store costs are transparent | Initial cost is free but set up, themes, plugins, hosting, domain registration and more all come at an additional cost |
| Launch | We help you launch your store in as little as 2 weeks; there's no need for third-party developers | Store launch takes 3-4 weeks and requires coding skills or help from third-party developers |
| Own the software | | |
| Aftercare included | | |
| Customisation | We help you customise your online store; you can choose from existing templates & themes | You need third-parties to help you customise your online store's themes, plug-ins & more |
| Bulk product uploads | | |
| Scalable | | |
| Integration | | |
| Payment processing | | |
| Shipping | | |
| Reports | | |
| Sell any product | | |
Launch a Builder.ai store in 4 simple steps
Create your branded store
Choose the design, add your logo and promotional banners, and get ready to launch your branded store.
Showcase your products
Upload all your product information easily including descriptions, images, pricing, colours, sizes, quantity and more.
Prepare to go live
2 weeks after your kick-off call your website and app are ready to go live.
Grow your business
Our built-in support keeps your website and apps up to date with no fuss. Plus, you can scope and add features at any time.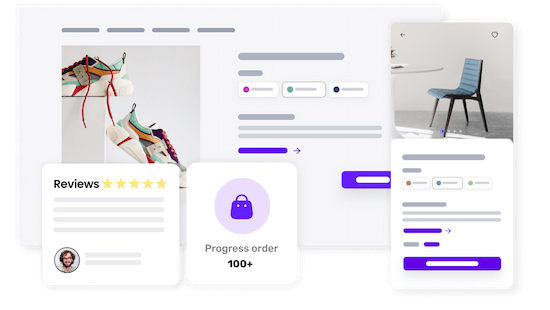 Key features
Branding
Achieve the perfect look and feel for your store by choosing from extensive themes and custom colour palettes, while delivering consistent brand experiences across desktop, tablet and mobile. You can also choose the placement of promotional banners throughout your store and rearrange sections of your homepage to maximise conversions.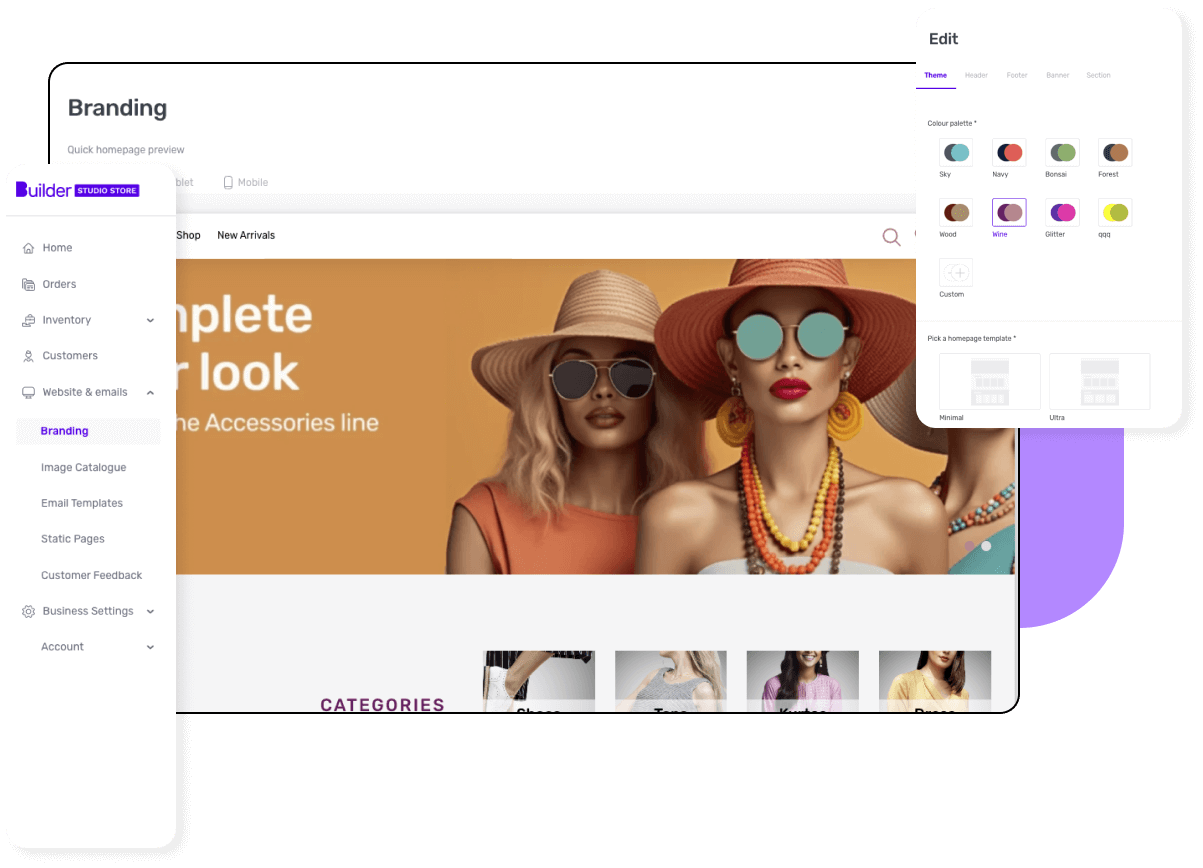 Inventory
Save time on inventory management by adding products to your online store in bulk, and tag products to specific categories and brands to deliver rich user experiences. You can also include a range of product variants by size, colour, material and many more.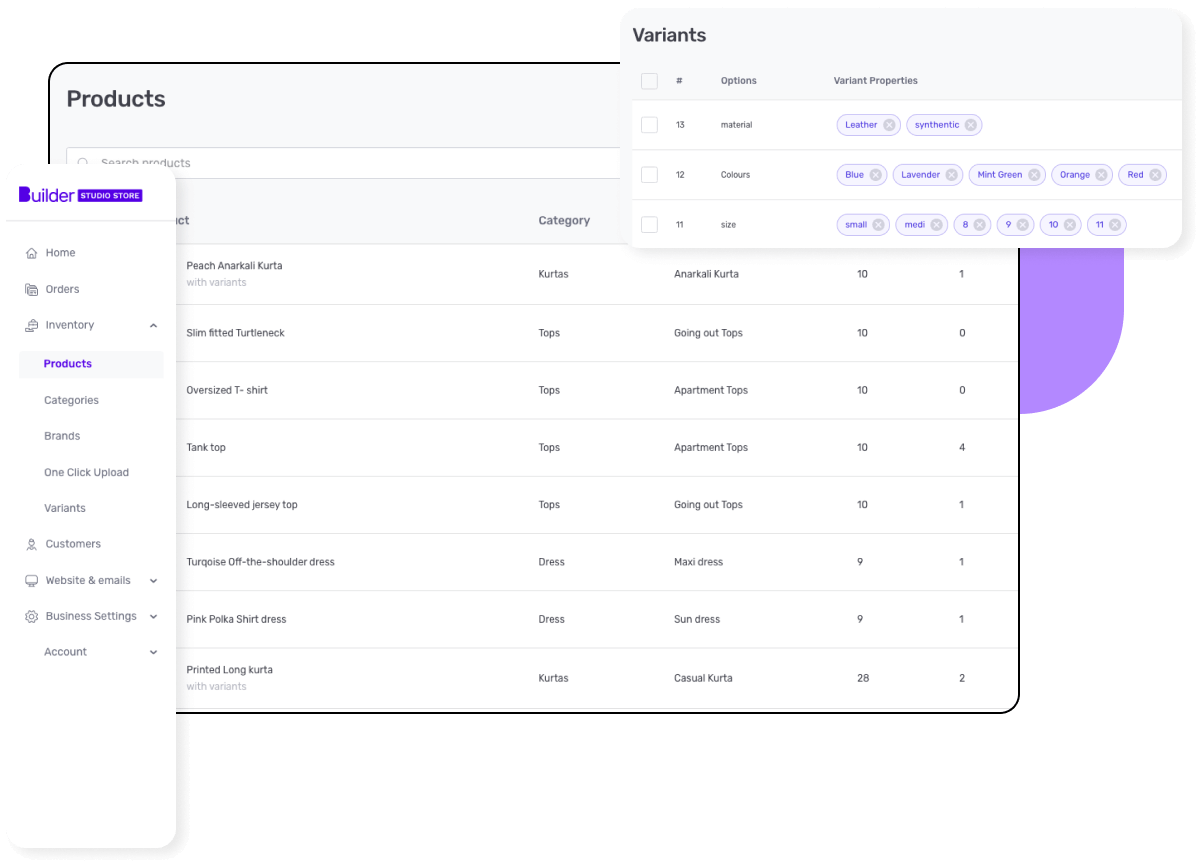 Customer engagement & marketing
Keep customers in the loop using our pre-designed email templates or use live chat to respond to customer queries in real time. You can also offer discounts to regular customers and run seasonal campaigns with promo codes and app notifications.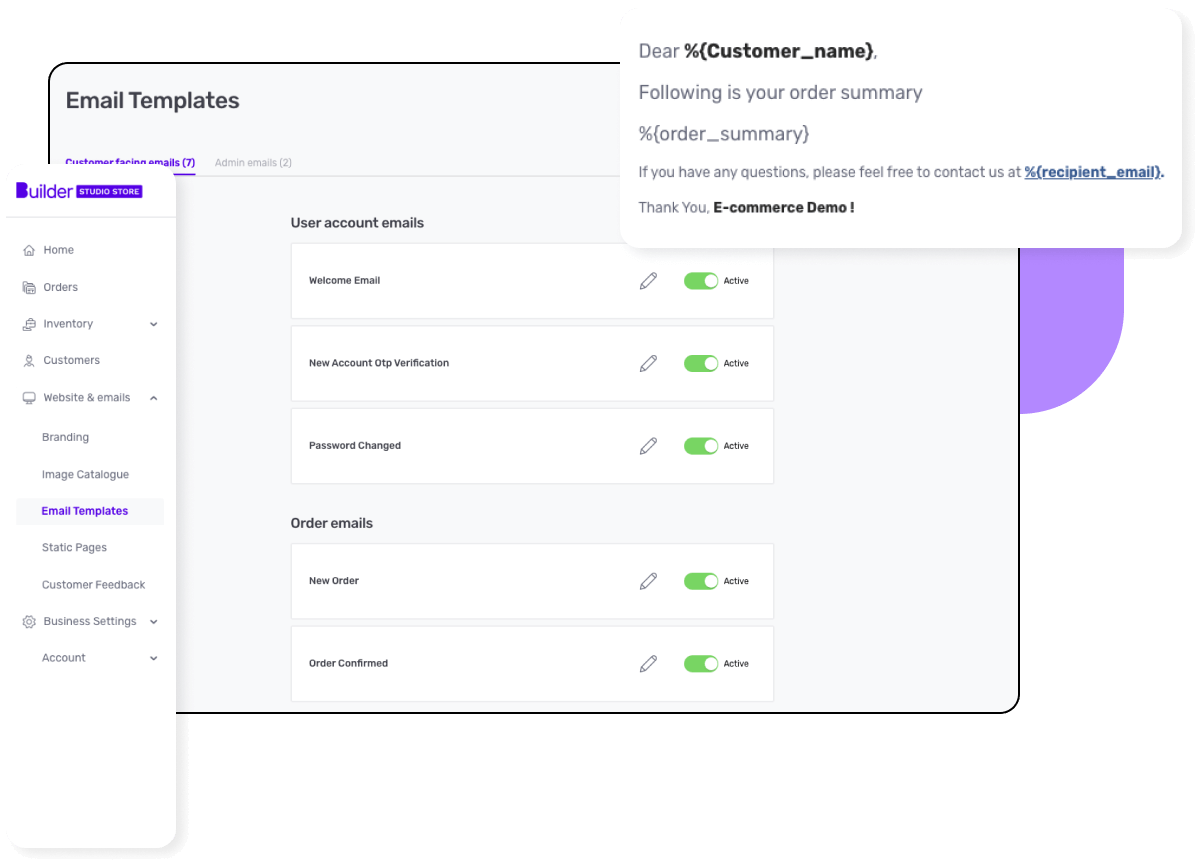 Reporting & dashboards
Review order and customer data in real time while taking advantage of historical sales data to benchmark seasonal performance. Plus, with our Google Tag Manager integration, you can track user activity across your online store, collect information about their behaviour and use it for remarketing campaigns.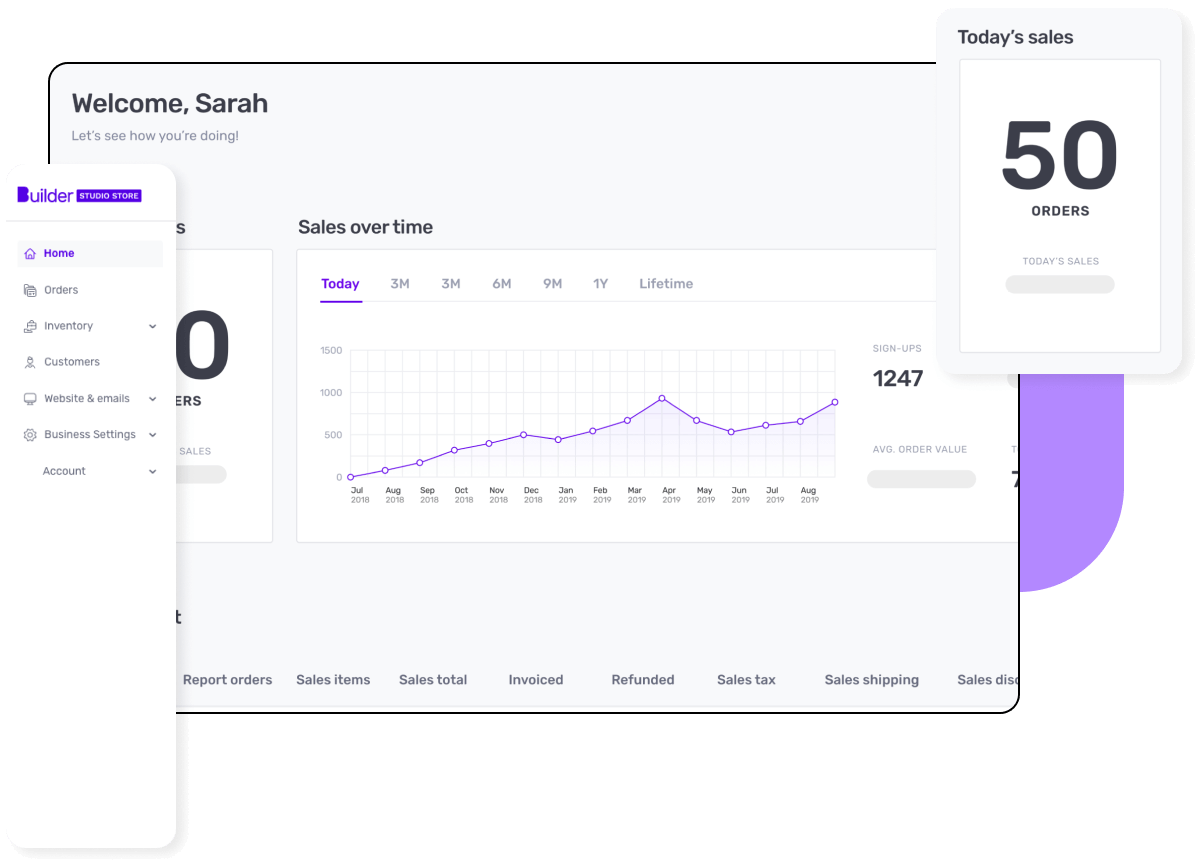 Real success stories from real customers
See how companies like yours used Builder.ai's app platform to help them achieve their business goals
The content of this article is provided for informational and promotional purposes only and is derived from publicly available data and industry sources. The views and opinions expressed herein represent those of the author alone and do not necessarily reflect the official policy or position of Builder.ai. This content is intended to offer insights and is not a definitive statement on the part of Builder.ai. Readers are advised to consider the promotional nature of the article and to exercise their own judgment in interpreting the author's perspectives. Builder.ai accepts no liability for any actions taken based on the information provided or for any consequential, special, or similar damages, even if advised of the possibility of such damages.