Pepsi
Replacing manual processes and empowering employees to focus on what they do best: provide excellent customer service. Supporting Dubai Refreshment's rapid growth by providing a platform that scales with them.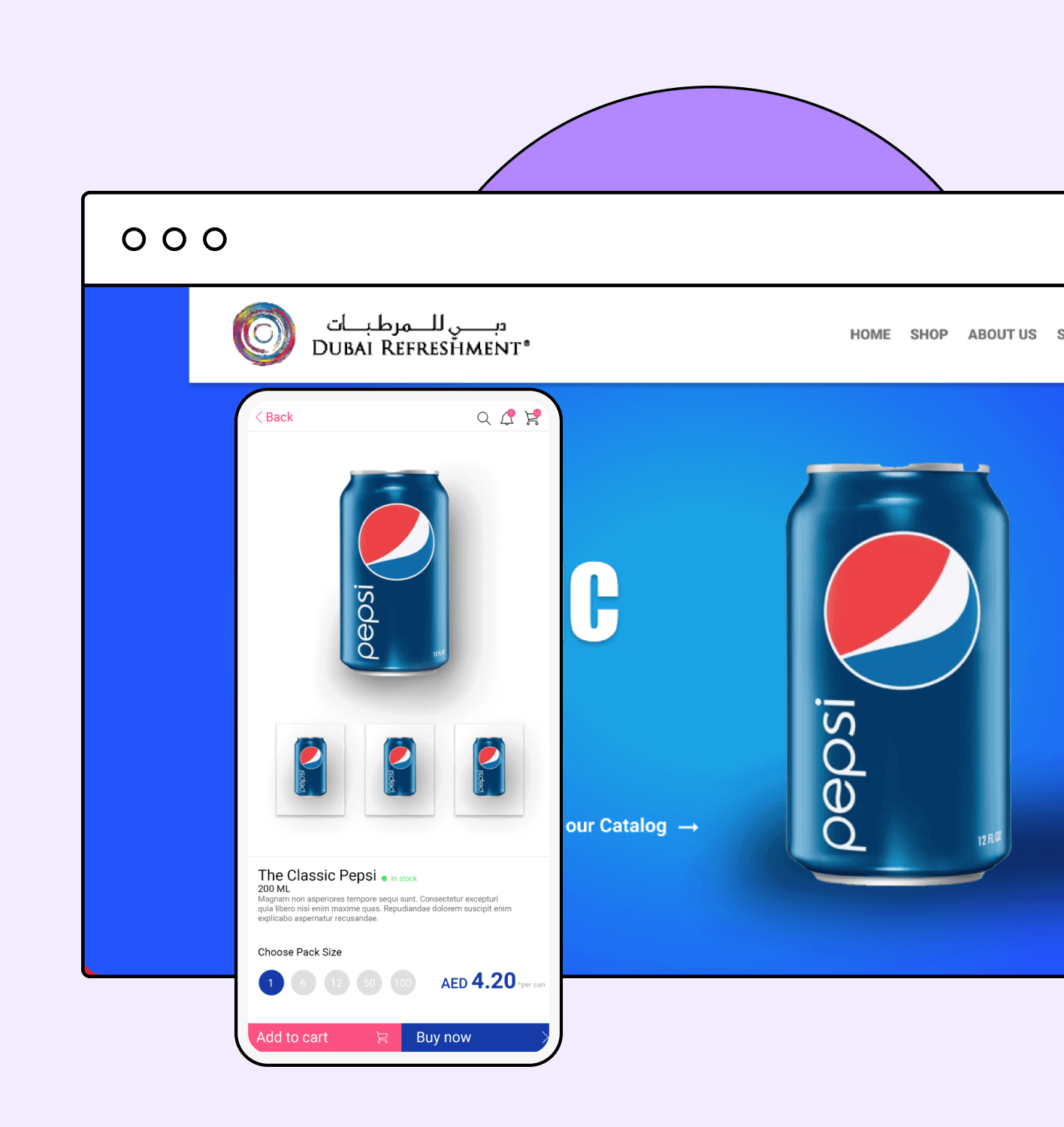 Challenge
Dubai Refreshments, one of the largest Food & Beverage manufacturing and distribution companies in the Middle East, approached us with a problem.

The company was fast-becoming one of the key distributors of Pepsi products in its region. But with incredible growth comes a key challenge.

Processes that once worked well don't always scale well. Manual processes become increasingly inefficient - a need made even more apparent and urgent with the emergence of Covid-19.

As a company that strives to maximise the capability of its people, that wasn't good enough for Dubai Refreshment.

The organization wanted to free up its employees to focus on what they do best: providing excellent customer service.
Solution
We worked with Dubai Refreshments to build a bespoke e-commerce platform that empowered their employees. The platform had to work seamlessly with its existing SAP solution so that existing operations weren't hindered in any way.

The product enabled instant order captures online for the company which completely removed the need for manual spreadsheets.

This new automated order process allows the company's customer support team to engage resellers with personalized offers - driving growth through up-selling.
Book your free demo today
We built a B2B e-commerce app for Dubai Refreshments at a fraction of the cost to develop a custom product. Because of the reusability of Builder.ai's blocks, the company was able to use the app as the foundation for their new B2C app where customers can place orders again and again - driving customer engagement across-the-board.

We also worked with Dubai Refreshments to move their on-premise data centers to hosting on AWS. Thanks to Builder Cloud, the company not only made huge savings but also provided them with a solution that would scale with them as they continued to grow.
Some of the features used
Profile
$ 1,816.49
Users can create and edit basic profile information that's visible to other users. Good for building identities and helping users recognise each other.
Post creation
$ 1,201.01
Users can create and publish text updates, tag locations, tag friends and upload media. Useful for encouraging conversations and understanding more about the users.
Dashboard
$ 2,670.42
See a summary of how the business is performing over different time periods. Uses two key metrics for deeper understanding, such as sales, cashflow, recent activity.

Api Integration
$ 1,696.45
Integrate another piece of software with the product so they talk to each other by automatically sending and receiving data. You can then use or make the data and software available to users. Example: Using Google Maps API to help users find their location.



Notifications
$ 2,025.86
A dashboard for users to view and manage (including reply, mark, delete) notifications of activity. Shows unread notifications to highlight what's recent and encourage users to open and see what's been received.

Multipage forms
$ 2,503.24
Split a long form into a series of smaller forms across multiple pages or sections. Splitting the form can make it appear easier and quicker to complete, particularly on smaller screens.
Catalogue
$ 1,471.07
View images, related information such as price, add to a collection or cart. Users can then see a list of items in one place.

Email login
$ 1,740.60
Enable users to login with an email address and password. Authenticates their identity, and good for user experience (email addresses are easier to remember than usernames).

Loyalty System
$ 1,807.80
Offer discounts and rewards to users based on how much they use your product. Often used to help build customer loyalty and increase the number of active users.
Software as easy as ordering pizza