#BuilderPromise
Dear Reader, I am the CEO and Co-founder of Builder.ai – and over the past 5 years, I have poured my heart, soul and sweat into this company. I mortgaged my house to infuse the startup with cash--all in a bid to solve the problem of democratizing access to tailor-made software. Especially as so many companies now need software (and subsequently, effective cloud management) to stay relevant. We bootstrapped the company until we closed our Series A round last year. We deliver on our promises every week; else we would have never reached $23M in revenue in the financial year before our raise (2018). It pains me to see stories like this; when now, almost 200 people in 3 cities pour their hearts into delivering our client projects to exceed our clients needs every. Single. Week. Where we continue to build technology to automate wasteful, repetitive parts of the, "build, run & scale" journey. We've never claimed to automate software development, we have always said Human-Assisted AI was more accurate. I'm all too aware of just how complicated Program Synthesis is from my own conversations with many academics that we are endeavoring to partner with as well as our own internal teams.
Our focus has always been to build the right things at the right time; whether it's improving the top of the funnel journey, so people can ideate with greater ease or making sure we deliver better to our current and prospective customers.The team and I have written a detailed note covering why we think this story and others like it are not a fair representation of our business; how we work and our integrity. We've never misrepresented to investors; the emails below hopefully explain this more. We never misrepresented to customers; obtaining a clear and transparent price has been built into our model from the beginning--clients even get a timeline to see when their platform will be complete.I hope you give us the time to read this; and I hope you find the opportunity to look at the full picture.With Metta,Sachin
Join the Builder.ai community
Our Response
Many questions arose after the Wall Street Journal (a publication we love reading) published the article, "AI startup boom raises questions of exaggerated tech savvy"; a piece on Artificial Intelligence as a technology landscape, but with a seemingly singular parti pris flag bearer in the story- our company. It was unfortunately also carried by other sites; none of whom reached out to us.
Short Answer:
We offered to meet with the WSJ six times--with our founder and team especially when they were in the same city. This unfortunately was never taken up; and we were never provided with documents to comment on. Many of our answers, which dispelled several of the allegations, were excluded from the reporting.
We were asked to share technology trade secrets on the record over a phone call; this was just not possible for us to do. As a company with patent applications in the making, we were advised not to talk about anything that is not already public on the record. It is also very hard to explain how we use a shallow two-layer neural network on a phone call, especially when the written explanation was not enough.
We have been transparent with all customers, investors, and anyone who has interacted with us. If anything, we have made the mistake of humanizing our approach too much, and this has led to contorted views on what we do and how we do it.
Our business model of Human-Assisted AI is designed to remove all repetitive processes from the "build, run & scale" journey. A very important part of this is our platform-matching work to be done with the distributed supply of talent from around the world. Whilst the use of AI and a much wider tech stack is key to our scale vector; equally important is our Capacity Partner network where we aggregate software development companies and allocate them to projects based on our system generated grade of their teams. We will always be a Human-Assisted AI Company; our service needs this partnership to produce unique solutions that our customers need.
Building an AI-powered company is very different to an AI solution company; our customer promise is the result of our own use of AI... and not the customers use of it. Do we make access to tailor-made software easier? Yes. Do we guarantee a price? Yes. Do we let customers self serve their needs? Yes. Were they able to do this before? No.
In fact, approximately 1% of our customers have been able to nail specification and start a software project without speaking to a single soul in our team until their kick off meeting (price, timeline all autonomously generated and customer agreed) with 5-7% purchasing only after one video call with a Product Expert (Customer Product Experts use the platform to guide a project and advise customers) & many through our popup Retail Experiences where they purchase (swipe a card) tailor-made (custom) software in hours of coming to our "booth" & spec'ing a project live on Builder.
We've written the rest of this post, with facts laid bare, because we take accusations against our reputation very seriously.
Factual Inaccuracies
We did not exaggerate our technology to attract investors. We never told any investor that 80% of our platform was built. Find below a key slide from our technical due diligence slide-deck and an email from all major investors outlining their point of view, and their confirmation of our transparency. This point was largely ignored.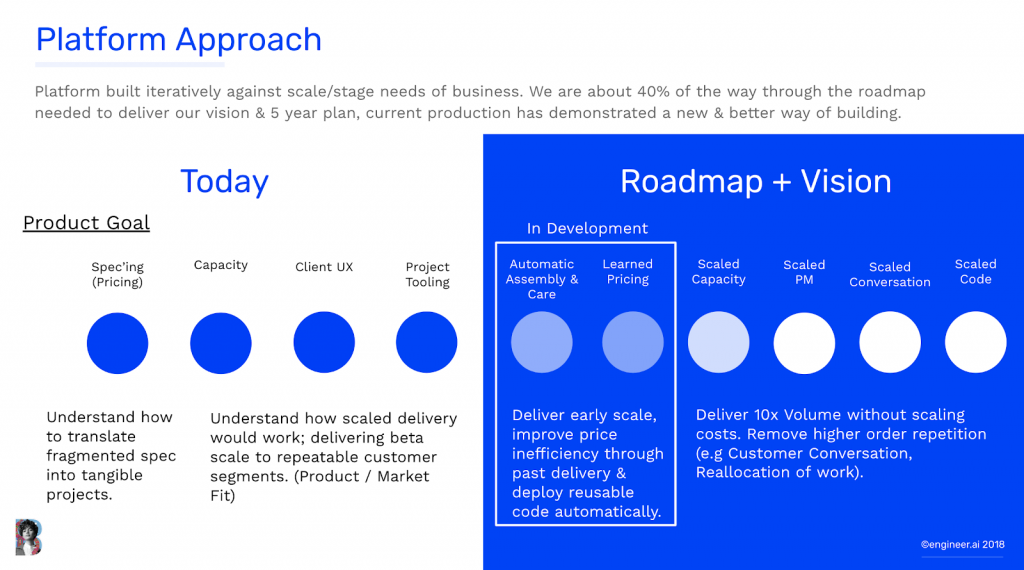 (Pulled from Builder.ai Investor Tech Due Diligence Deck)
When our investors Deepcore, Lakestar, and Jungle Ventures were contacted. All three unequivocally expressed their complete confidence in us.
A spokeswoman for Deepcore said it has, "complete confidence" in Mr. Duggal's vision and team. A spokesman for Jungle Ventures said it is a, "proud investor in Builder.ai and its technology," acknowledging that AI landscape is a varied spectrum. And, the Lakestar spokeswoman added that it also has confidence in Engineer.ai and its team, noting, "growth in the AI space does not happen overnight." It said Builder.ai had been very careful in presenting its technology to Lakestar and other investors.
We believe that the investors that sit on our board and often receive 90+ page updates, should bear more significance than the claims of a terminated employee. What's more:
We did not exaggerate our technology to attract customers. Builder.ai's customers have seen the product working. Keep in mind: We are not selling an AI solution; rather something that is powered by Humans and AI. In the end, we build, run, and scale tailor-made software. What we shared with the media is that approx 1% of customers self-purchased tailor-made software (custom software) without even speaking to a person. This would otherwise be impossible in traditional software development. Our customers accept the price and timeline in a browser; therefore there can be no misrepresentation, as we always deliver at or below the price and usually very close, if not before the deadline.
We explained that it's a Human and AI Partnership - And that there are Development Companies in 10 time zones that provide us with creators (engineers, testers and designers, for example) to work on client projects. The company absolutely uses human talent as part of the build and scale process, but it's not solely using human talent to achieve this; it's a machine and human partnership.
We repeatedly said we are not trying to fully automate app development, but rather automate all the repetitive parts of the entire process (from Idea to Build to Run and Scale) that are common, wasteful or otherwise inefficient. We realise ourselves that automatic software development (program synthesis) is at least 7 years away. But that being said, watch out for a blog post soon on some early research we have been doing on program synthesis.
We use our network of developers and designers to work on customer projects. We have over 100 Capacity Partners (Development Companies) that give the company resources to work on client solutions - and that these people are algorithmically selected.
We don't lack the use of natural language processing technology. In cases of media inquiries, we've always offered to show how this works in several off-the-record meetings. We believe that seeing the process unfold could have dispelled the basic misconceptions.
Decision trees are part of AI. Furthermore, we didn't say they are. We cited references to Wikipedia and others for the benefit of the reporter; more as a point of public reference. Clearly, one cannot dispel what's written online on such sites because of what a single individual calls a stretch. We live in a world where some people still think the planet is flat.
We will vigorously defend the lawsuit from a former employee. We are not sure how this can simply be cited in the article, as it is common practice not to talk about active litigation (and we were advised by counsel) so we could never really answer it on the record. All allegations in the article show up in a public court docket and our limited answers (because of the above point) were also not included; such as investor emails to the publication debunking any alleged misrepresentations or financial governance. It's a way to imply there is a problem, even though nothing wrong has been done, because someone who is upset with us and didn't fully understand or didn't want to fully understand the ground situation claimed it so.
Our Full Story.
Our last few weeks could have come straight out of a John Grisham meets Shakespeare book. There was sensationalism, behind the scenes maneuvering, covert collusion, grandstanding and unfortunately, a victim bewildered at what was going on. We've realized just how misunderstand Artificial Intelligence (AI) can be; its imprecise nature, open definition, and understandably wide interpretation. It has been worrying to see this could create a negative disruption in the startup community; people who have the potential to otherwise positively influence the world and humanity. Collectively we have to avoid running the risk of stalling innovation when reporting, especially in software companies powered by AI.
Our team huddled together and focused their energy (and a vast amount of time) on how to manage and respond to the inquiries that felt very unfair and very directional. Our employees, customers, investors and partners were written to, under the premise that we did not have any AI adoption, questions were asked about our customer and partner engagements, investments, and the founder's profile based on actively disputed allegations from a past employee who was a senior figure in the media circle in India. Our company bootstrapped itself to reach $23 million in revenue (Mar 2018) before it raised an investment round, one of the largest Series A funding rounds in Europe, and has helped countless number of companies including, something very close to our CEO's heart, nonprofits, build software at heavily shredded costs. We are just heads-down executing to grow.
It goes without saying that you cannot summarize everything we do, the approach we have taken, nor begin to understand our thinking in a few weeks of "investigating"; it's taken 5 years to reach where we are.
Be Transparent Always. Never Misrepresent. Focus on Customer Promise.
Our product and platform are predicated on being transparent; we tell people how much something is going to cost; how long it's going to take and we honor our price (in some cases even deliver below that price). It begs the question, have we always done this? Always. As a company powered by AI (as opposed to one selling AI) we use technology to make tailor-made software more accessible with a better price, quality and speed efficiency compared to traditional software development practices. Our customers are buying the overlying service, the ability to "build, run and scale" tailor-made software; and our platform has helped customers who would probably never have done so without it. What's more, we've done this at the machine generated guaranteed price and indicative timeline. To be able to have done this, we have to have a lot more than use "cheap Indian workers" - a distasteful positioning of some of our teams or our capacity partners that we came across. Below is how we have moved the needle because of the platform we have built:
Approx 1% of customers have bought tailor-made software using our self-service platform (Builder Studio). This is almost unheard of in traditional custom software.
At events, we had individuals and companies buy tailor-made software in less than a couple of hours; even swiping their credit card at a tradeshow.
We've shown the power of high feature reusability. We built a platform for Miles Davis' Estate in a little over 6 weeks; subsequently, our platform was used to build something for Fader Fort that could inherit many of original project code and this effectively reduced the development time down to 5 to 7 days.
Be an Entrepreneur. Build the Right thing at the Right Time.
A large part of how we managed to bootstrap to $23m in revenue (March 2018) was because we took the approach of building the right technology at the right time. Often, this meant building some parts of the platform in part and some parts in full; else we would make the mistake that many young companies make, build everything and pray that customers come; or worse still, build the wrong thing. Our company currently and will continue to use AI to eventually automate all of the repetitive tasks in the build, run, and scale process. Some of these are a pain at the start (think: idea to specification), some are a pain during early scale (think: developer matching and allocation) and others are when you start to scale more (think: human-less interfacing of features - our soon-to-launch RunEngine). On our part, we have explained everything we had worked on, what we had built (without going into trade secrets) and how much data we had collected. Sadly, some of our responses were reduced to one liners--which when out of context-- create an incorrect wider narrative about the company, especially when the subject in discussion is so complex. We also received questions about the credibility of our CEO's work experience at Deutsche Bank at the age of 17 because, "he was a teenager". It took sending copies of emails from 2001 to 2005 to have this clarified.

After we replied to the reporter he then sent us this

Where is the AI?
Who Moved My Cheese?
Here is some of what we have built, achieved and also shared with media. In all of this, we feel that the report over-indexed on decision trees being a 1950s AI technology. We don't believe that to be relevant. What about facial recognition? NLP? Neural Networks?
MORE EFFICIENT BUILDING
We'd had a percentage of customers purchasing custom software online without any human intervention. This is because 100% of pricing and timelines are done autonomously. We leverage a price discovery system that uses Natural Language Processing using a Neural Network. The was largely ignored in the report.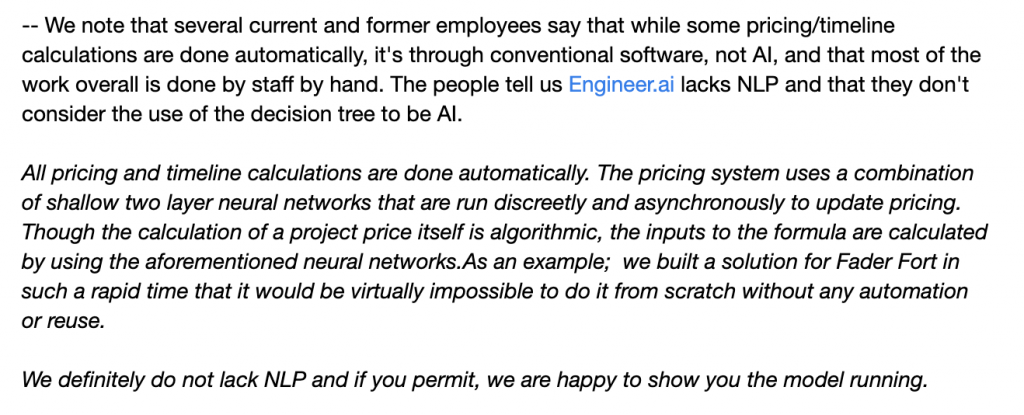 We source and allocate 100% of the creators from our network autonomously and use facial recognition based authentication of developers to prevent fraud on the network. This means we can now detect whether different people are working on the project versus those originally assigned.
Our use of facial recognition for developer authentication, our system of allocation and scoring unfortunately were not mentioned in the report despite them being highlighted.
All developers on-boarded on our platform are evaluated using a theoretical examination and practical assignment which leverages our automatic code rating system. This allows us to build a creator matching system (using Creators from our global network) -- in turn deciding whether to use an advanced developer for more complex work or a beginner for basic tasks.
There are many more features in production or beta, from common code reuse to a RunEngine (noted above) that allows seamless interfacing of code building blocks without human involvement.
Scale Better With Builder Cloud:
Churn prediction model for Builder Cloud not only allows us to manage our revenue (important) but allows us to signal our capacity purchase platform how to forward buy new cloud capacity so we don't over purchase.
We had originally built a usage prediction model based on supervised learning, but later realized it was not as efficient and then replaced it with a more robust, classical, Holt-Winters method; which many say has a better accuracy.
In Builder Cloud we use a combination of data engineering and statistical models to make real time infrastructure purchases (in millions of dollars) and exchanges in an optimal way.
We always have respect. We believe in our team.
We have a great belief in our team. Time after time, they have delivered against the goals we set them and let us proceed on our journey from start to finish. We were first asked if we have any AI expertise and later asked why one of our Senior Engineers who has 3 masters degrees and a PhD in Econometrics doesn't list AI Expertise on his Linkedin. We provided media people with an assessment done by a 3rd Party Firm in 2017 showing how strong our team was then and they put us (Elmer) in the following chart, which was left out from coverage altogether.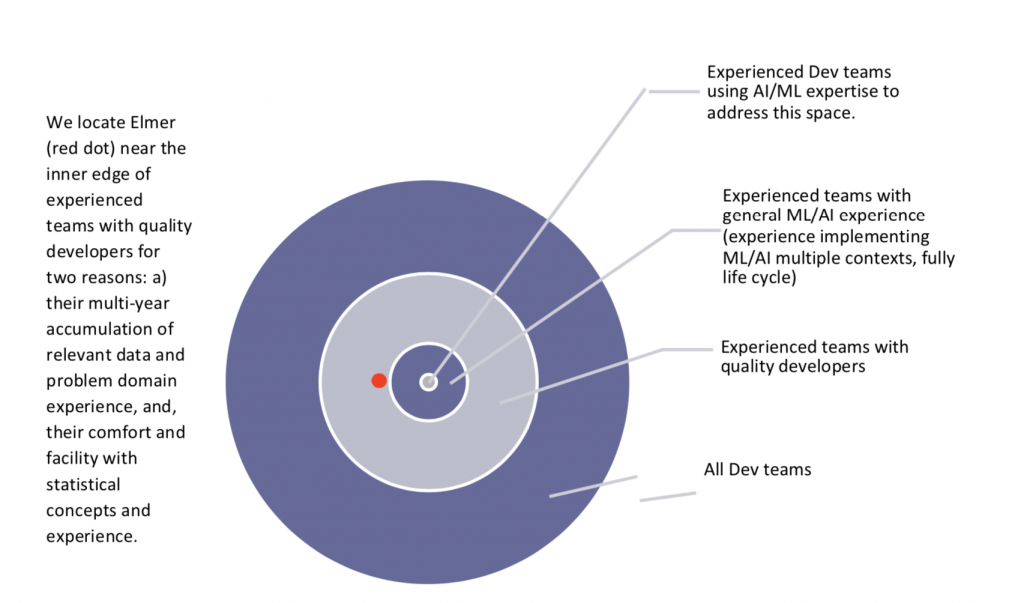 (Updated Image. In copying from document to document there was an error in the prior version).We explained our progress since, and what skillsets are required for AI as well as how we recruit, but this only changed the question from no people with AI capability to not having a deep bench. Our advisors were asked questions without any neutrality; being asked the same questions asked of our financial investors (which as we understand, were already answered). Truth is, just asking a question in a derogatory light can do damage to businesses, no matter how unfounded it is; and to scrutinize them despite getting several responses to the contrary just feels deeply unfair and inappropriate.
The Main Takeaway.
We don't believe we were given a fair chance to be presented; the article fell short on representing the full story. Many of the questions were leading; thereby creating a stakeholder doubt even by merely asking them. The coverage spanned many areas from individual integrity to pending litigation, proprietary technology to human capital; all completely unfounded. Whilst we respect the integrity of the Wall Street Journal, we cannot help but feel that this report served a purpose much other than informing the public about our alleged misrepresentations (to which we deny there are any).
We were questioned, for example, about the status of one of our key partnerships; when we showed our position on the said partner's website, we were questioned if we updated the partner's portal overnight, something seemingly impossible when the partner is a multi billion dollar cloud provider. It's without a shadow of doubt that one can and should write a story with all the issues that a company may have.
However, clearly this is done when you have proof of facts that may not have been explained. Attacking a company's reputation, any company for that matter, by singling them out in a landscape story on AI through questions implying wrongdoing, when they can all be dispelled, simply causes irreparable damage. It's like you're guilty because you were alleged. So, there you have it.
As always, we encourage you to make your own decisions--we do hope you'll take our concerns into consideration. If you care about the thousands and thousands of opportunities we'll generate for entrepreneurs and intrapreneurs, small and big, to have technology in their hand across the world--please stay with us right here. As before, we sincerely appreciate your support and value all our clients--future, current, and past.
Greig Robertson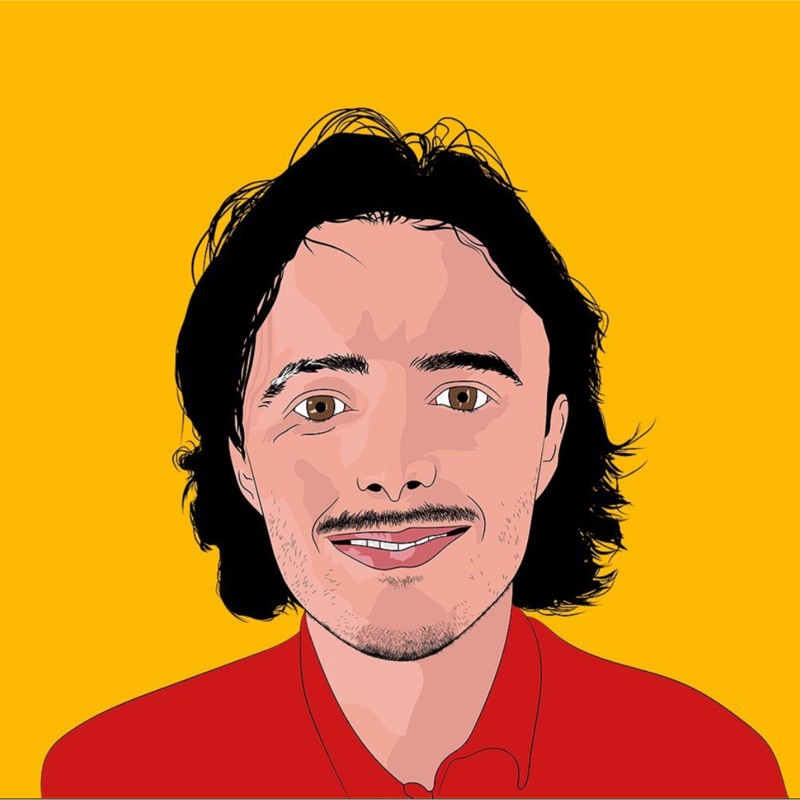 Greig is the Digital Content Lead at Builder.ai and a University of Bristol History grad. He has 5+ years' experience in B2B SaaS, creating data-driven, human-friendly content for high-growth tech startups. When Greig needs a dopamine hit, he checks Builder.ai's keyword rankings.