Build your florist app
You can build an app for your flower shop, without any tech skills. We make it simple to build, run, and scale on-demand flower delivery apps for iOS, Android and web. Now is the perfect time to go digital and operate your florist shop 24/7. Grow your business and build your app today.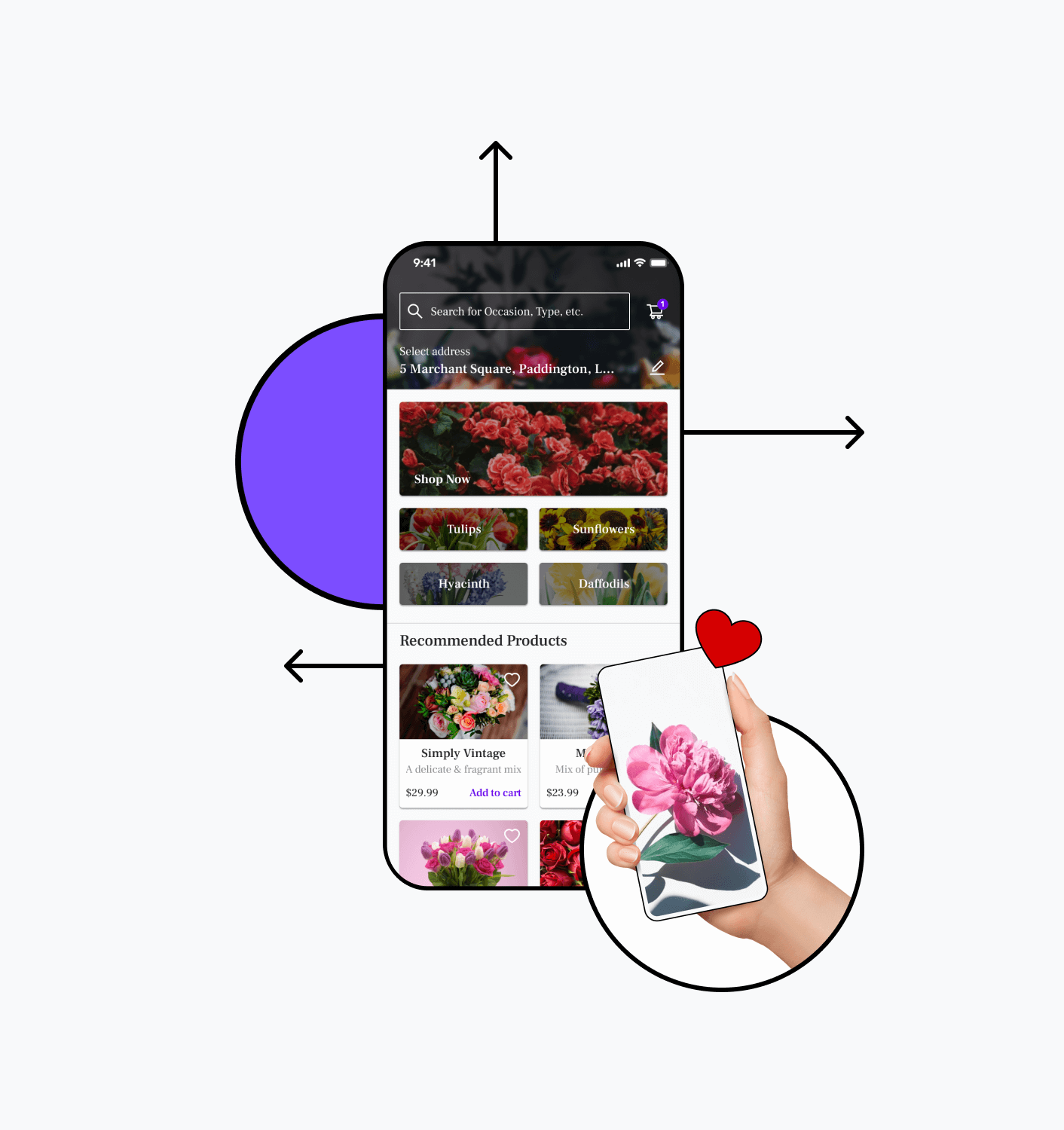 Why build a flower delivery app?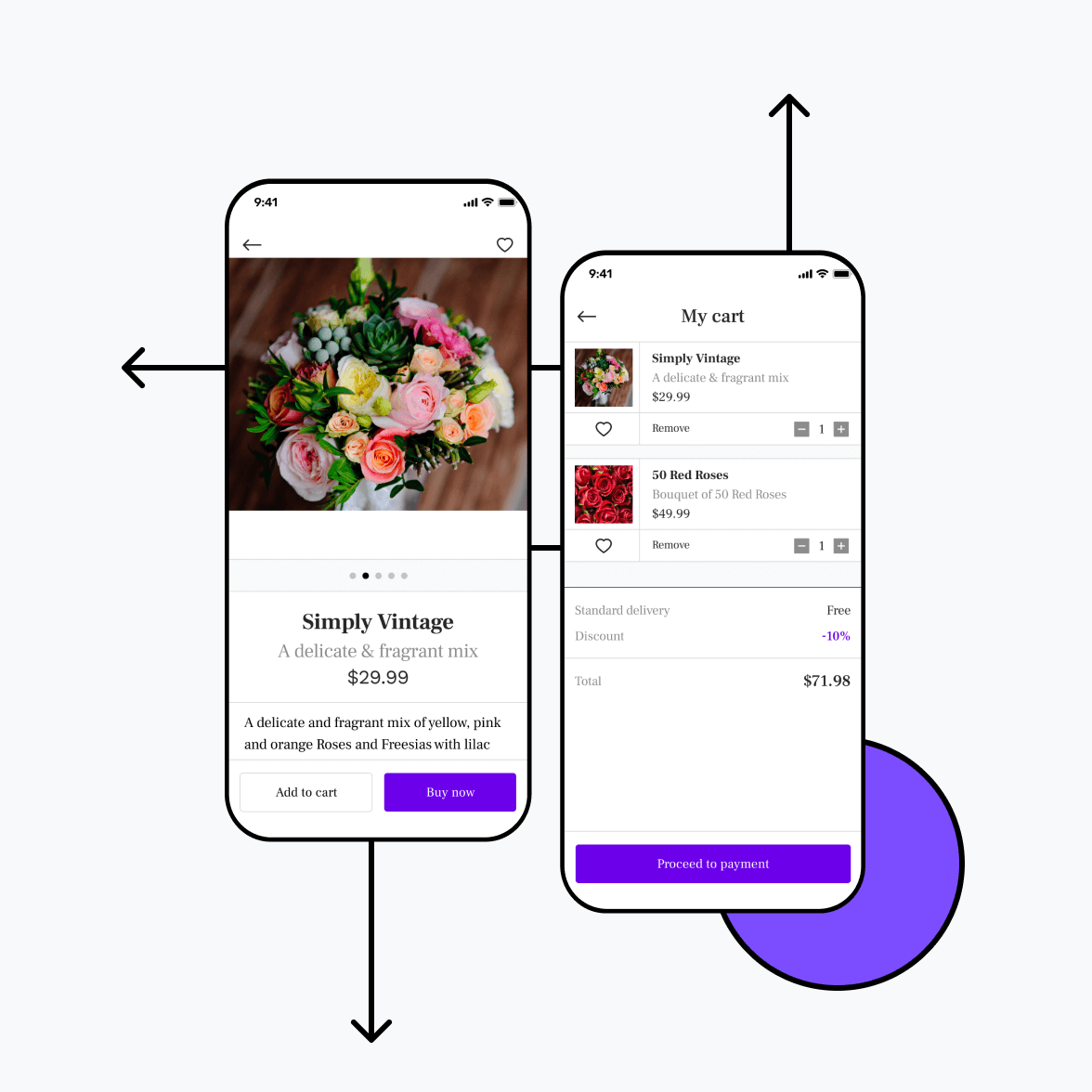 A lot has changed during this Covid-19 pandemic – the way we used to interact, do business, shop and work. Today, almost every business runs on digital assets or with the help of digital assistants. Flower shop owners with no online presence made almost zero sales. So right now is the time to build an app for your flower business.
Even without a global pandemic, your flower delivery business needs a mobile app. You have the ability to reach a far wider audience, catch customers whenever the thought of saying it with flowers pops into their head and it's much more cost effective for your business.

What are the essential features for my flower delivery app?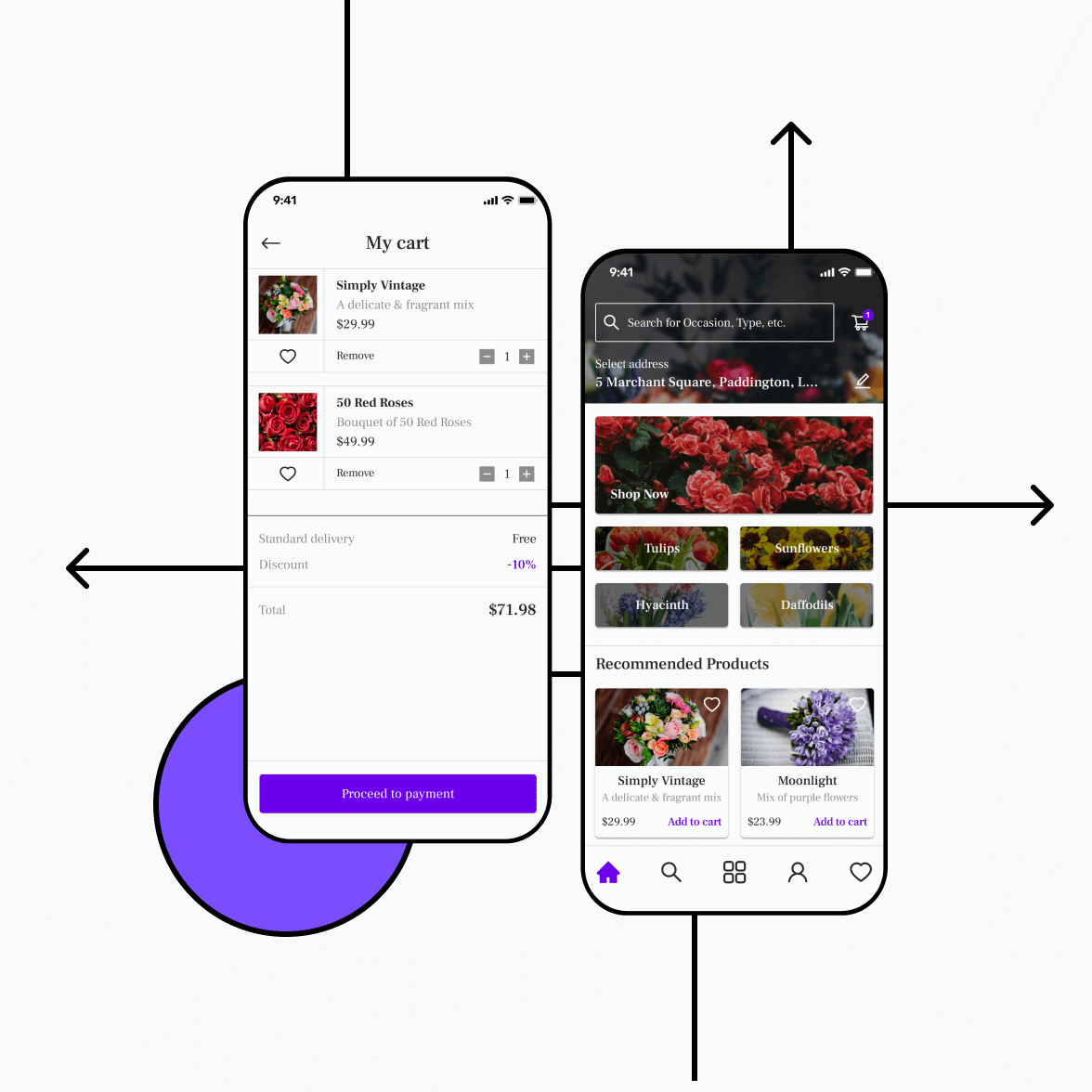 Having a feature-packed flower app makes shopping effortless for your customers and increases your sales – while reducing your work.
Here's a list of some cool, must-have features:
Schedule delivery
On-time delivery is the main concern when it comes to sending fresh flowers. Letting your customers schedule a delivery time can be a game-changer for your business.
Send a gift
Make it easy for your customers to send gifts (beautiful flowers with gift hampers for example) to special people and you'll add an extra star to your app review.
Bouquet customisation
Flowers are very personal. So what if your app lets your customers customise their bouquets or pick their favourite flowers?
Personalisation
We really recommend you have this feature in your app. Personalisation is something that everyone is looking for, especially in a heartfelt gift.
In-app payment
Payment gateways let you offer users secure payments. Make sure you think about including mobile wallets like Google Pay, AliPay, Apple Pay or PayPal. You'll make more sales.
Filter and sorting
Let your app users search, filter and sort through your flowers and gifts. This feature makes discovering their perfect flower bouquet easy.

Which platform and what's an MVP?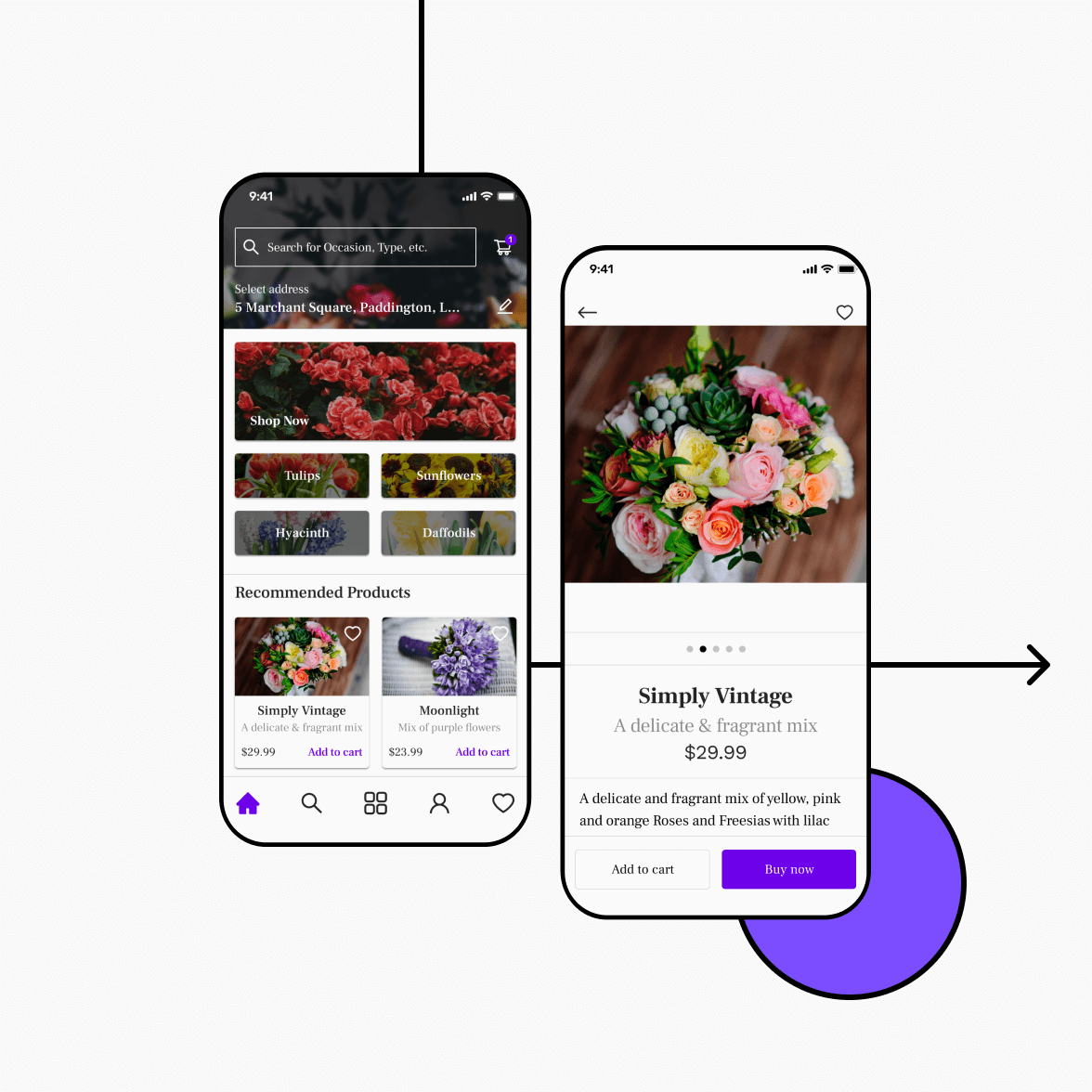 Before you build your full app, you might want to create a Minimum Viable Product (MVP), this is a bare bones version of your app to see if everything is as you want it before going for the full build.

You'd usually build an MVP for just one platform (either Android or iOS) so we recommend working out which of these has the highest percentage of users near you. You can find this data out through various market research websites. According to a report from Statista, Android holds (2019 data) 74.13% global market share where iOS holds 24%.

Our experts can talk you through whether you need an MVP and which platforms would work best for your business requirements. In fact, you'll get your own expert, who'll manage your whole project from start to finish.

How does Builder Studio work?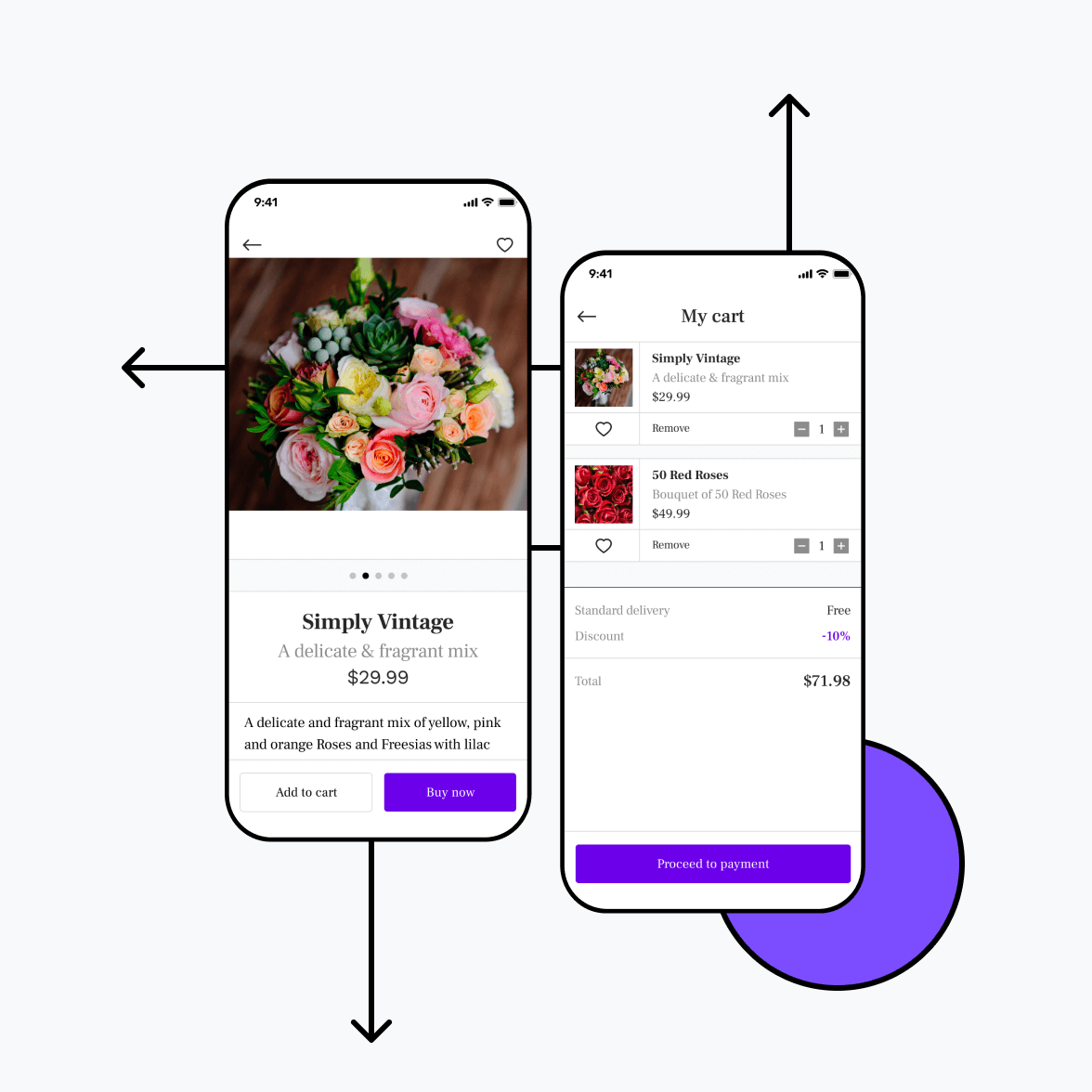 We make flower delivery app development as easy as ordering pizza. That's thanks to our AI powered assembly line. Our award-winning platform lets you build software by finding a similar app to your idea and then adding extra features or removing ones you don't need. Then our specialist developers and designers customise these features, so that they fit your florist business perfectly.
It's easier, faster and more cost effective. Even better, you end up with rigorously tested code that just works. If you're thinking about building your flower delivery application, give us a call today.

FAQs
Why does a florist business need a mobile app?
The flower delivery industry is a billion dollar business. Your florist shop gets passing traffic and hopefully great word of mouth. But let people order on your app and share their flower arrangement on social media platforms and suddenly you've a huge potential customer base.
And an app gives you access to huge amounts of customer data too. This means your marketing strategies are based on customer insights.
How much does it cost to build a flower delivery mobile app?
The cost of development for your app depends on how complicated your app is and the mobile app developer you choose. By combining award-winning AI with an expert development team, not only do you get your app faster but we can offer cost effective prices – however advanced your on-demand flower delivery app is!
Do I need to offer same day flower delivery?
Your potential customers' requirements have changed – no one wants to wait. Offering same day delivery means you're more likely to become a popular flower delivery app.
Same day or next day delivery means you need quick order processing and a reliable delivery provider in place. A powerful admin dashboard lets you keep track of online sales and active users. Get instant updates in real time, so you're on top of everything.
How can I make my app more user friendly?
1. Let each user store their credit card details to make the payment process faster. Offer real-time tracking and keep customers updated with push notifications.
2. Chat feature makes it simple for customers to ask questions or get in touch if flowers haven't arrived in proper condition (far better than this discussion happening over social media).
3. Give loyal customers regular updates about fresh arrivals. And you can build customer loyalty with a relevant gift (you know their habits and favourite flowers from the app). It can be anything from a special price or free delivery to sending flowers on their birthday.
How does an online flower delivery app work?
A customer downloads your app and logs in with a social media account, email address or mobile number. They can fill in some more personal details to create a profile. Then they pick from your flower listings and add it to their shopping cart. They add delivery location and preferred time along with their payment details.
We can connect your app's backend up to any delivery provider. So you can offer customers real-time order tracking. Customers are notified about each delivery stage through push notifications or emails.
Once you've successfully delivered your bouquet, don't forget to ask for recommendations. A quick email with a link to a reviewer site. And encourage users to post images on their social media accounts and tag you too.
Case studies
Solving complex business challenges for global brands like NBC Universal, Fujitsu, the BBC and Pepsi.