At Builder, we get excited about launching new game-changing products and participating within the tech community globally. We also recently announced our newest baby, er product, Builder Now. Since we really appreciate receiving attention for our efforts, we thought we'd share our updates below for curious Builders.
Builder Now reviews
We couldn't be more elated to launch Builder Now to our enthusiastic community of Builders starting with Slush 2019. Since launching Builder Now at #Slush2019 several weeks ago, we've had the chance to watch the anticipation build across social media and our blog. We were also covered by numerous publications globally so we'd thought we'd share this initial feedback. Curious about our newest addition and want to know what's next? Read on.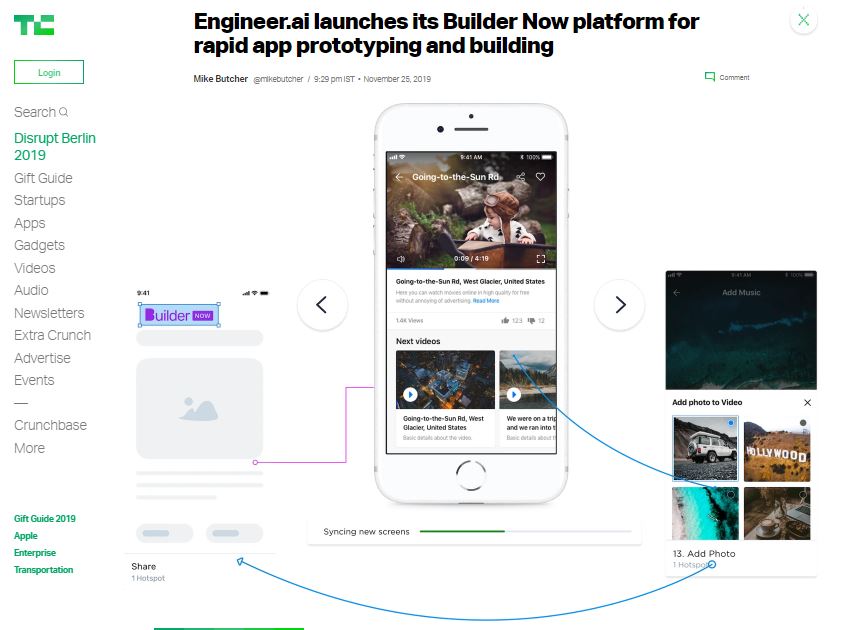 First, we were covered by TechCrunch, whose Mike Butcher noted he was impressed. Why? Because the 10 minute MVP was 'far faster than I could've imagined'. It was so lightning fast (compared to the weeks of development time it can currently take), it seemed like an obvious great choice. Thanks for your feedback, Mike, and we look forward to serving TechCrunch readers soon! Even Built In LA got in on the fun including Builder Now in an essential list of launches for the week in LA. Build your idea! Discover our approach to startup.Curious about startup? Find our interview with our Co-founder Sachin Dev Duggal with Raconteur about what makes a successful startup founder? According to Sachin, what matters most is, "patience, pattern recognition, grit, communication skills and authenticity." We couldn't agree more--and we look forward to providing more information (via our blog and social channels) to help along your entrepreneurial (and intrapreneurial) journey, Builders! Also, do you want to have peak performance everyday? Listen in a conversation with Peak Performers which is a, "Community dedicated to raising your game to the next level by learning how to Execute at the highest level and eliminating the obstacles that keep you from being the leader you were born to be." What an epic idea. That's why our Sachin Dev Duggal gets interviewed on an episode on building your own app with the Peak Performance Podcast.
Stay tuned
Want to make the most of your product building journey? Keep following us here, Builders and make sure you're subscribed via our social channels Twitter, Facebook, Instagram, LinkedIn and YouTube. Ready to create your next app? Try out Builder Now today and turn your idea into a product, Builders!
Technical Content Writer @ Builder.ai®
Erica Grigg is our Global Lead of Digital at Builder.ai®, where she's been on board since August 2018. Previously, Erica Co-founded a media startup, co-authored a book on Facebook and worked with numerous businesses and non-profits, including the World Wildlife Fund, the United Nations and Comcast. She's happy to share her lessons learned and best practices yet to be developed on the Builder Blog. Follow her on social media @EricaGrigg on Twitter and at linkedin.com/user/ericagrigg.